Petersburg Cemetery, Petersburg, Boone County, Kentucky, USA

OpenStreetMap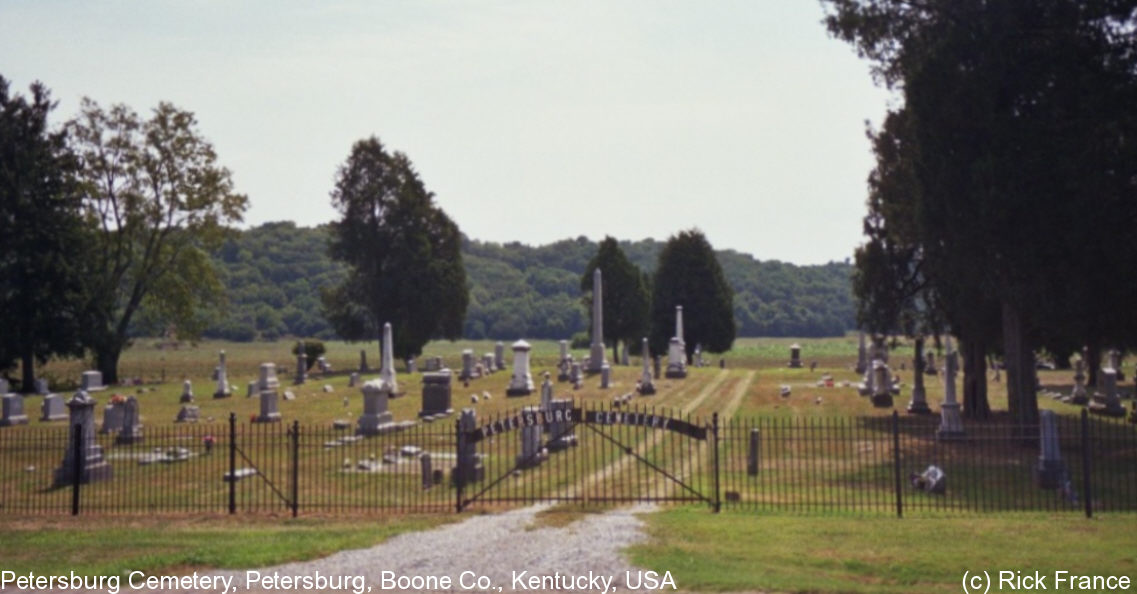 Notizen:
1.196 Graves (Apr 2017)
Cemetery notes and/or description:
Belleview Road, Petersburg, Boone County, Kentucky, USA
Postal Code: 41080
The cemetery is located on the east side of Belleview Road (Kentucky State Highway 20) about 0.4 miles west of its intersection with Front Street.
The U.S. Geological Survey (USGS) Geographic Names Information System (GNIS) feature ID for the cemetery is 2569281 (Petersburg Cemetery).
The Boone County GIS unique ID assigned to this cemetery is 126 (Petersburg Cemetery).
The cemetery has an index number of 128 (Petersburg Cemetery) on the Boone County Kentucky Cemetery Map published in 2005 by the Boone County Planning Commission in conjunction with Johnson-Wilson Cemetery Stewards Association.
The cemetery is identified as Petersburg in the index and listed as Petersburg Cemetery on page 7 of the book "Boone County, Kentucky Cemeteries" by Stephen W. Worrel, M.A. & Anne W. Fitzgerald, B.S., © 1996.
Friedhofs-Fotos
Vorschaubild
Beschreibung

1

Lena Leota Ryle
Petersburg Cemetery, Petersburg, Boone County, Kentucky, USA

2

Mary Allen Barnes
Petersburg Cemetery, Petersburg, Boone County, Kentucky, USA

3

Ross Porter Shinkle
Petersburg Cemetery, Petersburg, Boone County, Kentucky, USA

4

Samuel Nicolas Shinkle
Petersburg Cemetery, Petersburg, Boone County, Kentucky, USA
Alle Beerdigungen
#

Nachname, Taufnamen

Begraben

Personen-Kennung

1.
Barnes, Mary Allen
gest. 28 Feb 1920
Petersburg Cemetery, Petersburg, Boone County, Kentucky, USA
I163948
2.
Kittle, Martha
gest. 27 Nov 1977
Petersburg Cemetery, Petersburg, Boone County, Kentucky, USA
I163980
3.
Manford, Carrie
gest. 14 Sep 1948
Petersburg Cemetery, Petersburg, Boone County, Kentucky, USA
I163989
4.
Ryle, Lena Leota
gest. 5 Okt 1924
Petersburg Cemetery, Petersburg, Boone County, Kentucky, USA
I163967
5.
Shinkle, Charles Manford
gest. 16 Jul 1954
Petersburg Cemetery, Petersburg, Boone County, Kentucky, USA
I163975
6.
Shinkle, Henry W. Greyson
gest. 7 Aug 1979
Petersburg Cemetery, Petersburg, Boone County, Kentucky, USA
I163971
7.
Shinkle, Ross Porter
gest. 12 Mai 1917
Petersburg Cemetery, Petersburg, Boone County, Kentucky, USA
I163947
8.
Shinkle, Samuel Nicolas
gest. 16 Jul 1930
Petersburg Cemetery, Petersburg, Boone County, Kentucky, USA
I163966