Miles Family Cemetery, Fordsville, Ohio County, Kentucky, USA

OpenStreetMap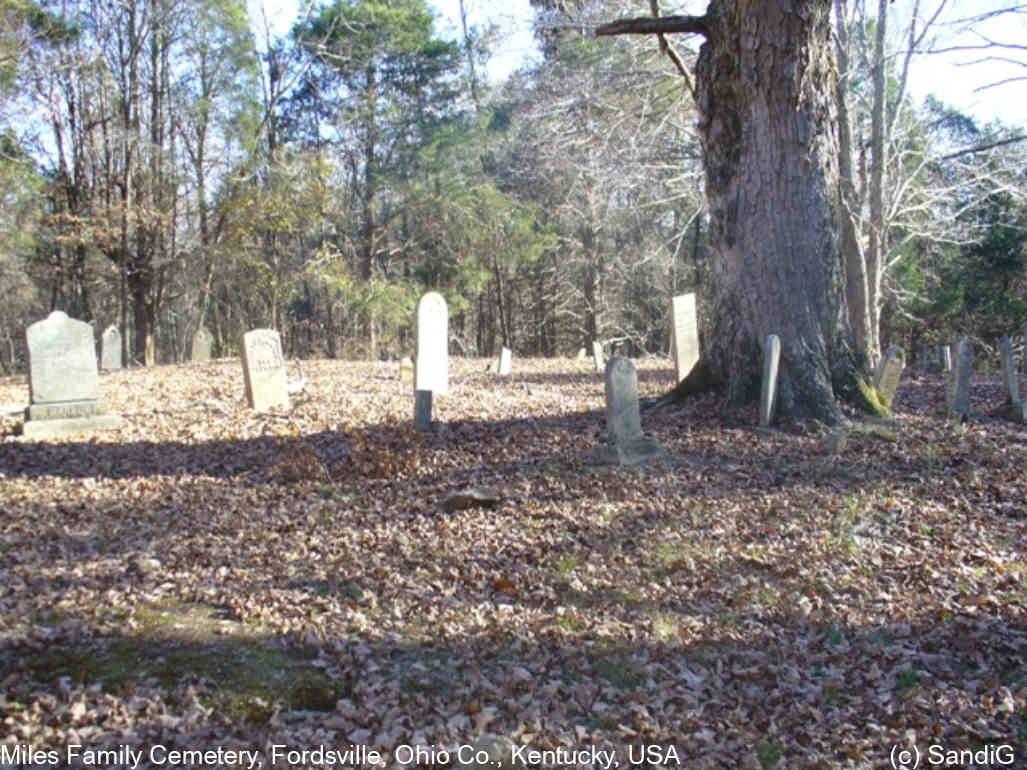 Notizen:
82 Graves (Apr 2017)
Cemetery notes and/or description:
Miles Cemetery Lane, Fordsville, Ohio County, Kentucky, USA
From Fordsville, go east on Hwy 54, past Hwy 261, then Hwy 54 turns south. Go past Old Askins Rd (KY 629), past Marlo-Seaton Lane. On left (east) will be a private road which is the Miles Cemetery Lane (also known as Bob Taque Lane). Cemetery is about 1/4 mile up the lane. Property is owned by Darrell Miles.
Josiah Haynes Sr (1771-1856) is buried in the cemetery.
Friedhofs-Fotos
Vorschaubild
Beschreibung

1

Bessie I. Marshall
Miles Family Cemetery, Fordsville, Ohio County, Kentucky, USA

2

George W. Marshall
Miles Family Cemetery, Fordsville, Ohio County, Kentucky, USA

3

Marvin L. Marshall
Miles Family Cemetery, Fordsville, Ohio County, Kentucky, USA
Alle Beerdigungen
#

Nachname, Taufnamen

Begraben

Personen-Kennung

1.
Marshall, Bessie I.
gest. 2 Mai 1891
Miles Family Cemetery, Fordsville, Ohio County, Kentucky, USA
I164094
2.
Marshall, George W.
gest. 8 Dez 1906
Miles Family Cemetery, Fordsville, Ohio County, Kentucky, USA
I164060
3.
Marshall, Marvin L.
gest. 21 Nov 1906
Miles Family Cemetery, Fordsville, Ohio County, Kentucky, USA
I164062