Judy Cemetery, West Point, Lee County, Iowa, USA

OpenStreetMap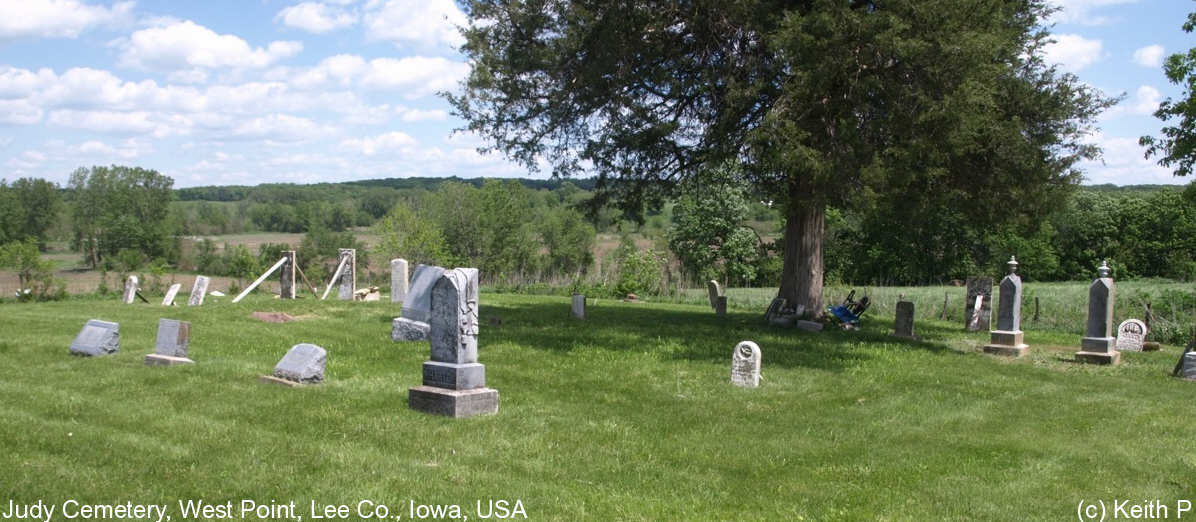 Notizen:
44 Graves (Apr 2017)
Cemetery notes and/or description:
225th Ave, West Point, Lee County, Iowa, USA
Also known as: Judy Pioneer Cemetery, Whorton Cemetery
Judy Cemetery is located on the Hammer Farm in West Point Township, Lee County, Iowa. The current landowners deny knowledge of graves on their property. The older generations of Judy Family members claim the cemetery is on the property and the name list comes from the Historical Society.
Friedhofs-Fotos
Vorschaubild
Beschreibung

1

Emma Wharton
Judy Cemetery, West Point, Lee County, Iowa, USA

2

Mary Magdalena Judy
Judy Cemetery, West Point, Lee County, Iowa, USA

3

William H. Wharton
Judy Cemetery, West Point, Lee County, Iowa, USA
Alle Beerdigungen
#

Nachname, Taufnamen

Begraben

Personen-Kennung

1.
Cooney, Ellen
gest. 2 Dez 1904
Judy Cemetery, West Point, Lee County, Iowa, USA
I164225
2.
Judy, Mary Magdalena
gest. 11 Jul 1936
Judy Cemetery, West Point, Lee County, Iowa, USA
I164140
3.
Wharton, Emma
gest. 30 Mai 1944
Judy Cemetery, West Point, Lee County, Iowa, USA
I164149
4.
Wharton, William H.
gest. 6 Mrz 1905
Judy Cemetery, West Point, Lee County, Iowa, USA
I164139