Ida Cemetery, Munden, Republic County, Kansas, USA

OpenStreetMap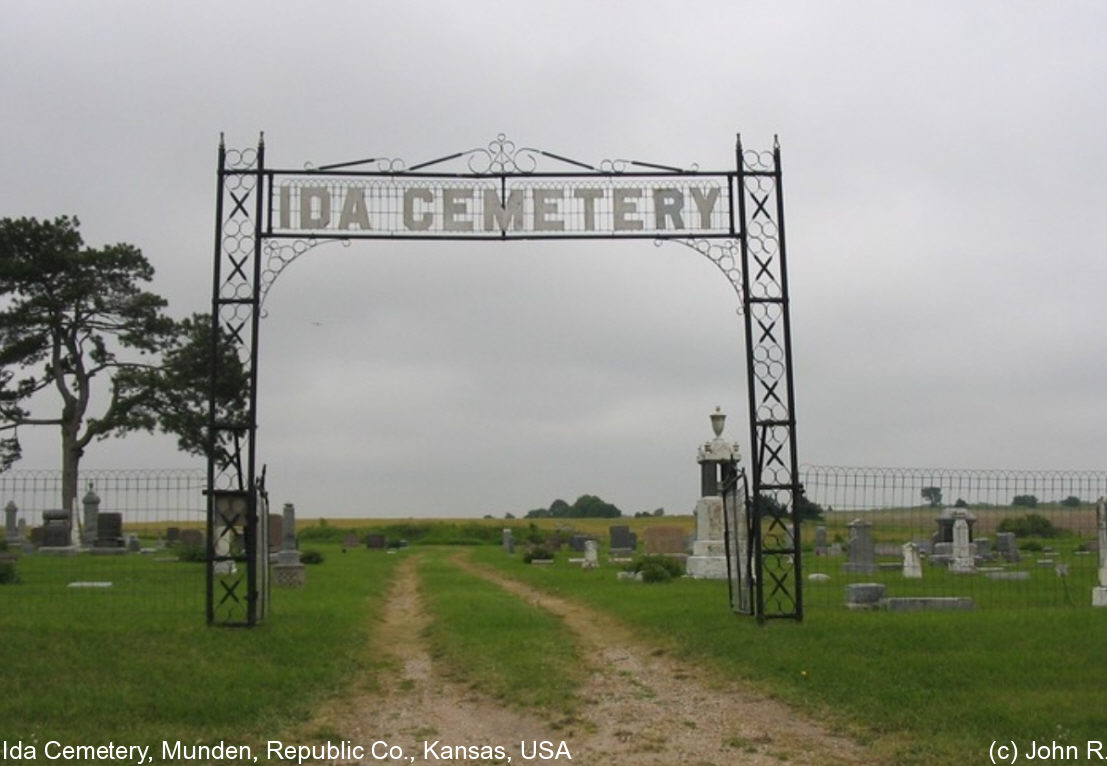 Notizen:
773 Graves (Mai 2017)
County Rd 24, Munden, Republic County, Kansas, USA
Cemetery notes and/or description:
Ida Cemetery is located 1 mile N, 2 miles E, and 1/2 mile N of Munden Kansas. It is located in section 25 of Rose Creek Township. Munden is approx. 5 miles E and 7 miles N of Belleville.
Friedhofs-Fotos
Vorschaubild
Beschreibung

1

Annie E. Vincent
Ida Cemetery, Munden, Republic County, Kansas, USA

2

Annie Gertrude Bowersox
Ida Cemetery, Munden, Republic County, Kansas, USA

3

Laurel Theodore Bowersox
Ida Cemetery, Munden, Republic County, Kansas, USA

4

Willis Howes
Ida Cemetery, Munden, Republic County, Kansas, USA
Alle Beerdigungen
#

Nachname, Taufnamen

Begraben

Personen-Kennung

1.
Bowersox, Annie Gertrude
gest. 21 Dez 1903
Ida Cemetery, Munden, Republic County, Kansas, USA
I165250
2.
Bowersox, Laurel Theodore
begr. 8 Dez 1901
Ida Cemetery, Munden, Republic County, Kansas, USA
I165249
3.
Howes, Willis
gest. 10 Mai 1905
Ida Cemetery, Munden, Republic County, Kansas, USA
I165259
4.
Vincent, Annie E.
gest. 7 Mai 1898
Ida Cemetery, Munden, Republic County, Kansas, USA
I165260