Saint Vincent De Paul Cemetery #2 (Soniat St), New Orleans, Orleans County, Louisiana, USA

OpenStreetMap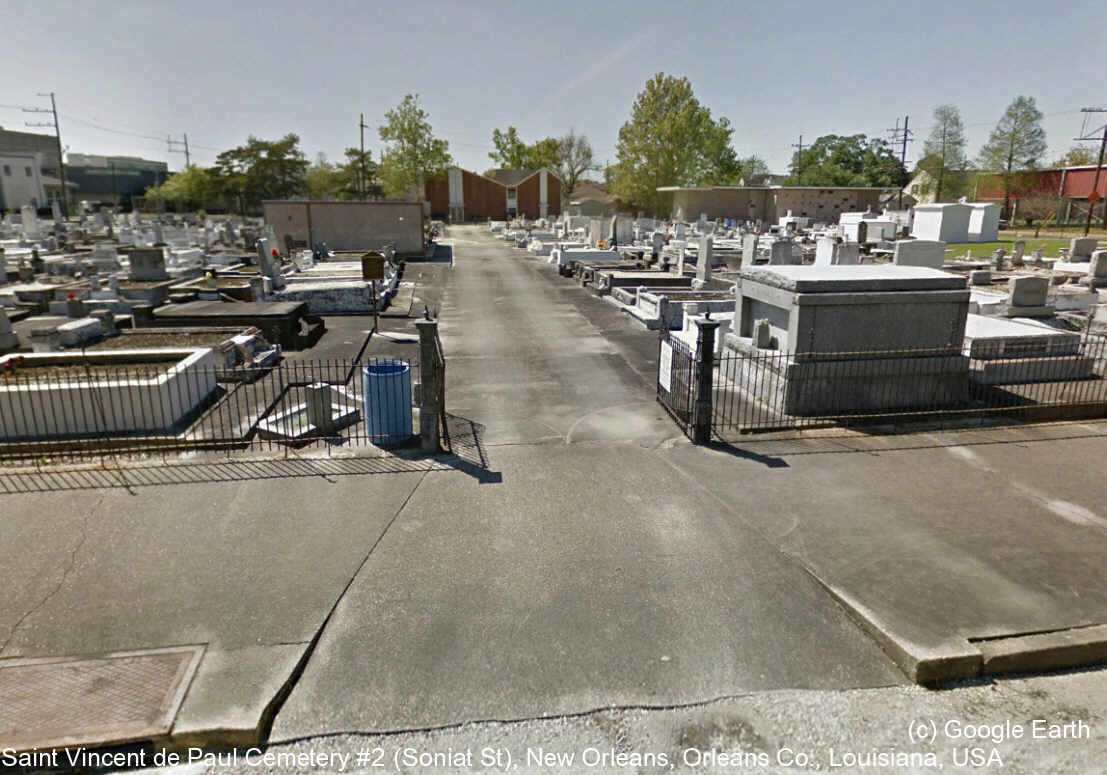 Notizen:
834 Graves (Sep 2017)
1950 Soniat St, New Orleans, Orleans Parish, Louisiana, USA
Cemetery notes and/or description:
Per sign at gate: Monday through Sunday, 8:30-4:00.
Cemetery Office at St. Patrick Cemetery, 143 City Park Ave., 504-488-5300?
St. Vincent Cemetery 1925 Soniat Street, New Orleans, LA70115 (also known as St. Vincent de Paul Cemetery #1) comprises 2 city blocks in the Uptown Neighborhood of New Orleans. The original section is bounded by Soniat St., S. Saratoga St., Dufossat St., and Loyola Ave.
The second section encompasses the adjoining block (sometimes referred to as St. Vincent #2) this portion of cemetery is bounded by Soniat St., Loyola Ave., Dufossat St., and S. Liberty St.
This cemetery is owned and operated by the Archdiocese of New Orleans, 1000 Howard Ave., New Orleans 70113
There was a lot of confusion between the many listings of Saint Vincent De Paul cemeteries. We have created a new listing for Saint Vincent De Paul Cemetery #2 on Louisa Street. Please let Find A Grave know if there are memorials that need to be moved from one cemetery listing on Find A Grave to another.
Friedhofs-Fotos
Vorschaubild
Beschreibung

1

Johann Philipp Gemar
Saint Vincent De Paul Cemetery #2 (Soniat St), New Orleans, Orleans Parish, Louisiana, USA

2

Mary Sarah Ann Nereaux
Saint Vincent De Paul Cemetery #2 (Soniat St), New Orleans, Orleans Parish, Louisiana, USA
Alle Beerdigungen
#

Nachname, Taufnamen

Begraben

Personen-Kennung

1.
Gemar, Johann Philipp
gest. 4 Apr 1908
Saint Vincent De Paul Cemetery #2 (Soniat St), New Orleans, Orleans County, Louisiana, USA
I168933
2.
Nereaux, Mary Sarah Ann
gest. 30 Jan 1955
Saint Vincent De Paul Cemetery #2 (Soniat St), New Orleans, Orleans County, Louisiana, USA
I168934