Los Angeles National Cemetery, Los Angeles, Los Angeles County, California, USA

OpenStreetMap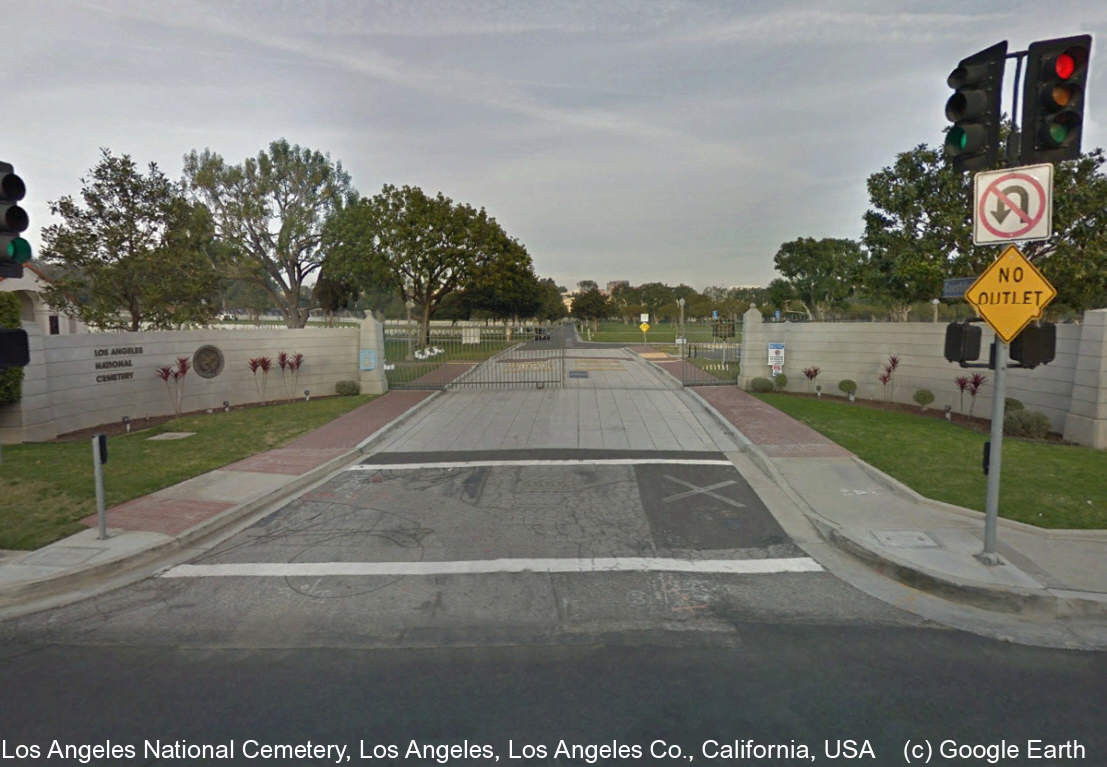 Notizen:
85.141 Graves (Sep 2017)
950 South Sepulveda Boulevard, Los Angeles, Los Angeles County, California, USA
Cemetery notes and/or description:
Also known as: Sawtelle Veterans Cemetery
Postal Code: 90049
Phone: (310) 268-4675 or (3
www.cem.va.gov/CEMs/nch...
Phone: (310) 268-4675 or 4494
Office Hours:
Monday thru Friday 8:00am to 4:30pm
Closed federal holidays except Memorial Day and Veterans Day
Visitation Hours:
Open Daily 8:00am to 5:00pm except Memorial Day 8:00am to 7:00pm
Was established in 1887 on Santa Monica ranch lands donated by Senator John P. Jones and Arcadia B. de Baker. The following year, the site grew by an additional 200 acres; in 1890, 20 more acres were appended for use as a veterans' cemetery.
Friedhofs-Fotos
Vorschaubild
Beschreibung

1

Margaret A. Serr
Los Angeles National Cemetery, Los Angeles, Los Angeles County, California, USA, Plot: Section 53A C-9

2

Patrick J. Flavin
Los Angeles National Cemetery, Los Angeles, Los Angeles County, California, USA, Plot: Section 53A C-9
Alle Beerdigungen
#

Nachname, Taufnamen

Begraben

Personen-Kennung

1.
Ashton, Oliver Cromwell Sr.
gest. 10 Mai 1953
Los Angeles National Cemetery, Los Angeles, Los Angeles County, California, USA
I201591
2.
Flavin, Patrick J.
gest. 25 Feb 1970
Los Angeles National Cemetery, Los Angeles, Los Angeles County, California, USA
I169036
3.
Serr, Margaret A.
gest. 21 Apr 1980
Los Angeles National Cemetery, Los Angeles, Los Angeles County, California, USA
I169035