Beresford Memorial Park Cemetery, Beresford, Union County, South Dakota, USA

OpenStreetMap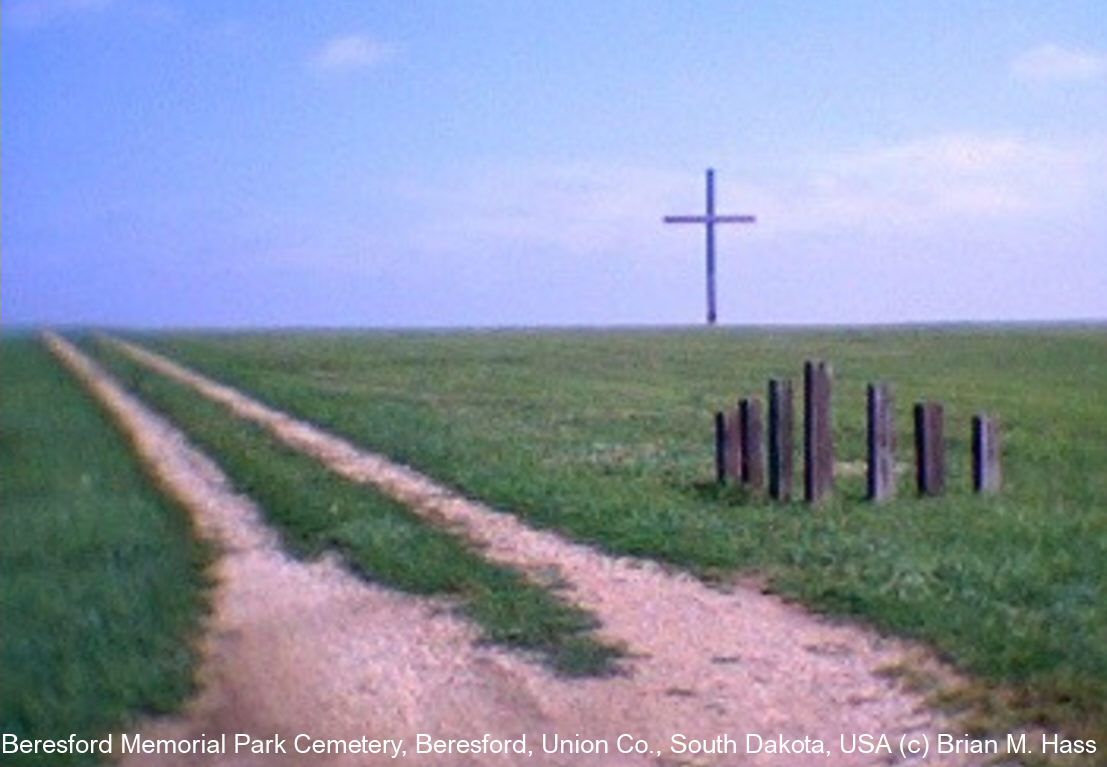 Notizen:
23 Graves (Sep 2017)
298th St, Beresford, Union County, South Dakota, USA
Cemetery notes and/or description:
Beresford Memorial Park (or Memorial Plot) is one of four adjacent cemeteries located along the north side of Union County's 298th Street, located one mile south of highway 46 and about a mile and a half east of Beresford's Third Street. Of these four, Beresford Memorial Park is the cemetery located farthest east.
The other three adjacent cemeteries are (from west to east) St. John Cemetery, Beresford Cemetery, and Emmanuel Lutheran Cemetery. Of the four cemeteries, St. John Cemetery is the only one which is marked by signs that are visible from the road, which can be a source of confusion to visitors who do not live in the area. The lack of marked boundaries between the four cemeteries make them appear as one large cemetery; and, the four cemeteries are known collectively and less formally as "the City Cemetery."
Beresford Memorial Park was established on five acres of land which were purchased from Eli and Lucy Steadman in 1977. All grave markers were required to be flat with the ground. No above-ground monuments were permitted. Due to the lack of popularity of the flat markers, the cemetery contained only about a dozen graves during the first quarter century of its existence. Beresford Memorial Park and Beresford Cemetery are non-denominational cemeteries which are under the guidance of the Beresford Cemetery Association, Inc.
The photograph of the Beresford Memorial Park cemetery, Prairie Township, Union County, South Dakota was taken by Brian M. Hass on August 1, 2005. This photograph shows a view from the end of the cemetery's left entrance, looking north-northeast. The only structure visible from the road is the large cross at the center of the cemetery. The only grave markers allowed at this cemetery are ones that are flat and flush with the ground.
Friedhofs-Fotos
Vorschaubild
Beschreibung

1

Albert D. Ottmar
Beresford Memorial Park Cemetery, Beresford, Union County, South Dakota, USA

2

Bonnie Jean Tilford
Beresford Memorial Park Cemetery, Beresford, Union County, South Dakota, USA
Alle Beerdigungen
#

Nachname, Taufnamen

Begraben

Personen-Kennung

1.
Ottmar, Albert D.
gest. 5 Jun 2004
Beresford Memorial Park Cemetery, Beresford, Union County, South Dakota, USA
I169444
2.
Tilford, Bonnie Jean
gest. 20 Jun 2005
Beresford Memorial Park Cemetery, Beresford, Union County, South Dakota, USA
I169527