Mission City Memorial Park, Santa Clara, Santa Clara County, California, USA

OpenStreetMap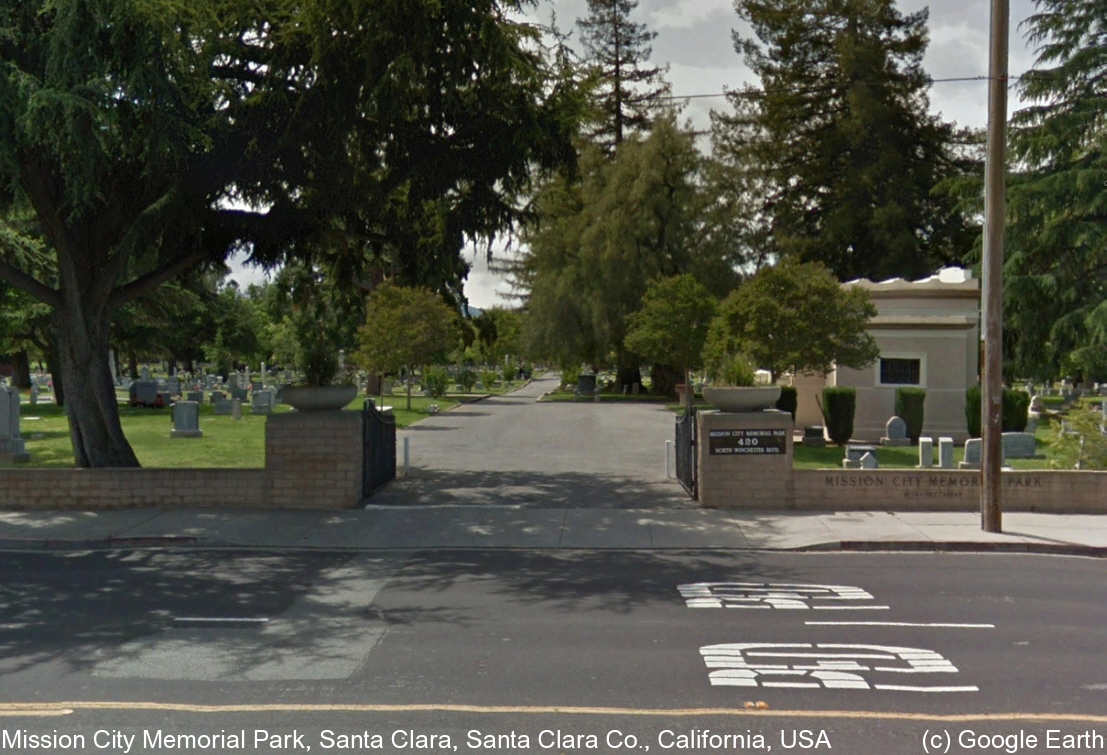 Notizen:
19.563 Graves (Sep 2017)
420 N. Winchester Boulevard, Santa Clara, Santa Clara County, California, USA
Cemetery notes and/or description:
Also known as: Santa Clara Cemetery, Santa Clara City Cemetery
Postal Code: 95052
Phone: (408) 615-3790
between Scott Boulevard and Pruneridge Avenue
Mailing Address: P.O. Box 388, Santa Clara, California 95052
The 30-acre all-faith cemetery is one of only a few municipal owned and operated cemeteries in California. The first records at the cemetery are dated 1864.
If you are on Winchester Blvd. Mission City Memorial Park is on the left and on the next block Santa Clara Mission Cemetery is on the right which always causes a lot of confusion, even to long time residents.
In order, it has been known as Santa Clara Burial Ground, Santa Clara Protestant Cemetery, Santa Clara City Cemetery and Mission City Memorial Park since 1972.
Friedhofs-Fotos
Vorschaubild
Beschreibung

1

Kenneth Dale Zimbelman
Mission City Memorial Park, Santa Clara, Santa Clara County, California, USA
Alle Beerdigungen
#

Nachname, Taufnamen

Begraben

Personen-Kennung

1.
Brown, Georgia H.
gest. 22 Jan 1876
Mission City Memorial Park, Santa Clara, Santa Clara County, California, USA
I26295
2.
Brown, Hugh King
gest. 5 Feb 1926
Mission City Memorial Park, Santa Clara, Santa Clara County, California, USA
I26287
3.
Brown, Margaret Omelia
gest. 15 Apr 1931
Mission City Memorial Park, Santa Clara, Santa Clara County, California, USA
I26289
4.
Brown, Nancy J. +
gest. 11 Okt 1859
Mission City Memorial Park, Santa Clara, Santa Clara County, California, USA
I26290
5.
Brown, Nancy Lenore
gest. 18 Feb 1966
Mission City Memorial Park, Santa Clara, Santa Clara County, California, USA
I26293
6.
Haun, Matilda
gest. 12 Apr 1899
Mission City Memorial Park, Santa Clara, Santa Clara County, California, USA
I25750
7.
Haun, Peter
gest. 20 Mrz 1873
Mission City Memorial Park, Santa Clara, Santa Clara County, California, USA
I25759
8.
Hinshaw, Bertha E.
gest. 5 Jan 1973
Mission City Memorial Park, Santa Clara, Santa Clara County, California, USA
I25624
9.
Hinshaw, Daniel Lewis
gest. 15 Dez 1903
Mission City Memorial Park, Santa Clara, Santa Clara County, California, USA
I25620
10.
Hinshaw, Jonathan Armstrong
gest. 30 Mrz 1903
Mission City Memorial Park, Santa Clara, Santa Clara County, California, USA
I25612
11.
Hinshaw, William W.
gest. 2 Jan 1901
Mission City Memorial Park, Santa Clara, Santa Clara County, California, USA
I25727
12.
Lynn, Elizabeth Frances
gest. 13 Jun 1936
Mission City Memorial Park, Santa Clara, Santa Clara County, California, USA
I25567
13.
Lynn, Emily
begr. 28 Jan 1868
Mission City Memorial Park, Santa Clara, Santa Clara County, California, USA
I25024
14.
Lynn, Mary Ann
gest. 9 Aug 1878
Mission City Memorial Park, Santa Clara, Santa Clara County, California, USA
I25566
15.
Moody, Andrew J. Jr.
gest. 3 Feb 1912
Mission City Memorial Park, Santa Clara, Santa Clara County, California, USA
I25751
16.
Moody, Barton Stewart
gest. 17 Feb 1914
Mission City Memorial Park, Santa Clara, Santa Clara County, California, USA
I25579
17.
Moody, Jenny
gest. 18 Okt 1879
Mission City Memorial Park, Santa Clara, Santa Clara County, California, USA
I25760
18.
Moody, John J.
gest. 19 Apr 1882
Mission City Memorial Park, Santa Clara, Santa Clara County, California, USA
I25606
19.
Swinford, Catharine Martin
gest. 15 Jan 1927
Mission City Memorial Park, Santa Clara, Santa Clara County, California, USA
I29535
20.
Swinford, Maude E. +
gest. 20 Sep 1864
Mission City Memorial Park, Santa Clara, Santa Clara County, California, USA
I30076
21.
Veatch, Nora
gest. 10 Jul 1931
Mission City Memorial Park, Santa Clara, Santa Clara County, California, USA
I29731
22.
Veatch, Schuyler C.
gest. 3 Feb 1914
Mission City Memorial Park, Santa Clara, Santa Clara County, California, USA
I29732
23.
Wright, Charles L.
gest. 30 Apr 1938
Mission City Memorial Park, Santa Clara, Santa Clara County, California, USA
I25758
24.
Zimbelman, Kenneth Dale
gest. 17 Nov 2003
Mission City Memorial Park, Santa Clara, Santa Clara County, California, USA
I2354