Cherokee Memorial Park, Lodi, San Joaquin County, California, USA

OpenStreetMap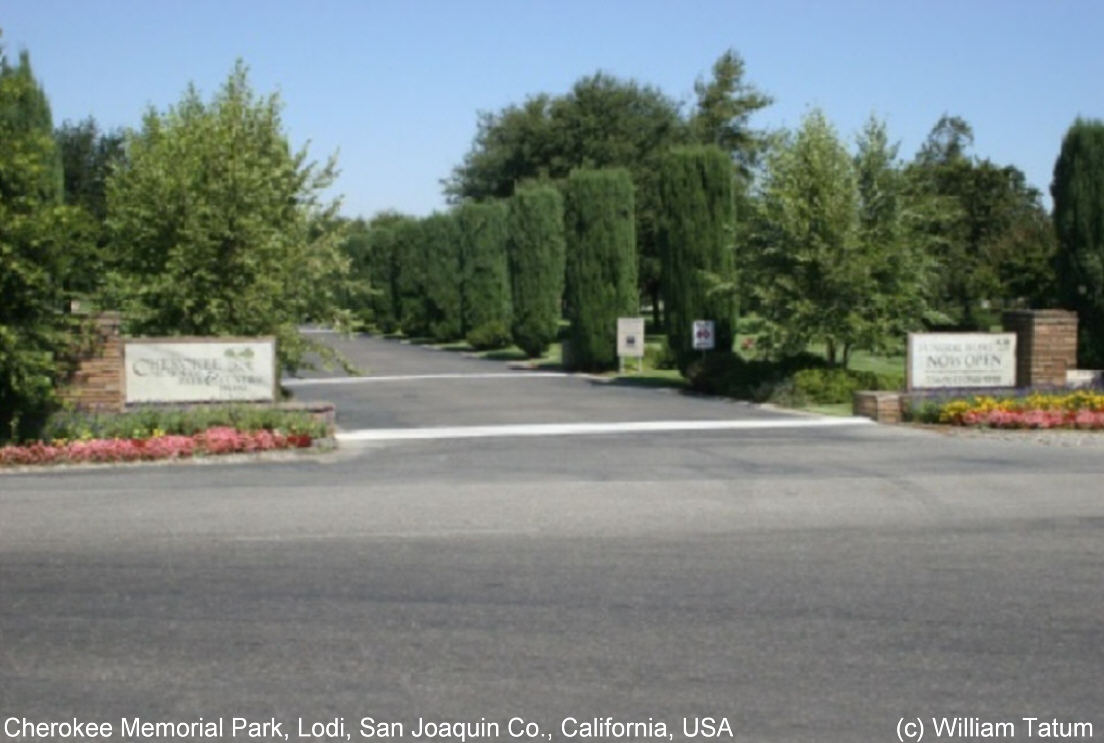 Notizen:
37.522 Graves (Okt 2018)
Hwy 99 E Harney Ln, Lodi, San Joaquin County, California, USA
Cemetery notes and/or description:
Postal Code: 95240
Phone: 209-367-3082
Cherokee Memorial Park is located at the intersection of Highway 99 and Harney Lane in Lodi, CA.
As of June 2016, Cherokee Memorial Park implemented a new policy for requesting PLOT LOCATIONS ... they will only give that information to FAMILY members. With roughly 34,787 interments at Cherokee it is very important to have plot location information if there is a photo request. Please call Cherokee Memorial Park: 209 334-9613 to get the plot location.
Friedhofs-Fotos
Vorschaubild
Beschreibung

1

Albert A. Schweitz
Cherokee Memorial Park, Lodi, San Joaquin County, California, USA

2

Albert William Baumgartner
Cherokee Memorial Park, Lodi, San Joaquin County, California, USA

3

Alfred Wilhelm Nuss
Cherokee Memorial Park, Lodi, San Joaquin County, California, USA

4

Alice May Hoeppner
Cherokee Memorial Park, Lodi, San Joaquin County, California, USA

5

Alta Meservy
Cherokee Memorial Park, Lodi, San Joaquin County, California, USA

6

Alvin A. Heer
Cherokee Memorial Park, Lodi, San Joaquin County, California, USA

7

Amalia Lorraine Zimbelman
Cherokee Memorial Park, Lodi, San Joaquin County, California, USA

8

Amalia Meisner
Cherokee Memorial Park, Lodi, San Joaquin County, California, USA

9

Andrew F. Lehr
Cherokee Memorial Park, Lodi, San Joaquin County, California, USA

10

Anna Gurine Broin
Cherokee Memorial Park, Lodi, San Joaquin County, California, USA

11

Anna Mae Addington
Cherokee Memorial Park, Lodi, San Joaquin County, California, USA

12

Anna Regina Mueller
Cherokee Memorial Park, Lodi, San Joaquin County, California, USA

13

Anna Schweigert
Cherokee Memorial Park, Lodi, San Joaquin County, California, USA

14

Ardis Vyra Bauer
Cherokee Memorial Park, Lodi, San Joaquin County, California, USA

15

Arhtur Mauch
Cherokee Memorial Park, Lodi, San Joaquin County, California, USA

16

Arhur Wilton Bauer
Cherokee Memorial Park, Lodi, San Joaquin County, California, USA

17

Arlie Lester Dahl
Cherokee Memorial Park, Lodi, San Joaquin County, California, USA

18

Avis Lucille Cook
Cherokee Memorial Park, Lodi, San Joaquin County, California, USA

19

Barbara B. Bachmann
Cherokee Memorial Park, Lodi, San Joaquin County, California, USA

20

Barbara D. Neff
Cherokee Memorial Park, Lodi, San Joaquin County, California, USA

21

Barbara Rath
Cherokee Memorial Park, Lodi, San Joaquin County, California, USA

22

Benjamin Bentz
Cherokee Memorial Park, Lodi, San Joaquin County, California, USA

23

Benjamin Schaffer
Cherokee Memorial Park, Lodi, San Joaquin County, California, USA

24

Betty J. Hieb
Cherokee Memorial Park, Lodi, San Joaquin County, California, USA

25

Calvin Zimbelmann
Cherokee Memorial Park, Lodi, San Joaquin County, California, USA

26

Charles Harris Shults
Cherokee Memorial Park, Lodi, San Joaquin County, California, USA

27

Charlie P. Harmon
Cherokee Memorial Park, Lodi, San Joaquin County, California, USA

28

Christina Reich
Cherokee Memorial Park, Lodi, San Joaquin County, California, USA

29

Clara M. Perman
Cherokee Memorial Park, Lodi, San Joaquin County, California, USA

30

Clara Margaretha Hofmann
Cherokee Memorial Park, Lodi, San Joaquin County, California, USA

31

Clifford Harold Schmiedt
Cherokee Memorial Park, Lodi, San Joaquin County, California, USA

32

David Michael Lehr
Cherokee Memorial Park, Lodi, San Joaquin County, California, USA, Plot: Memories Block 1544, Space 2, GPS (lat/lon): 38.10487, -121.25764

33

Dean William Buttell
Cherokee Memorial Park, Lodi, San Joaquin County, California, USA

34

Deborah Jane Lehr
Cherokee Memorial Park, Lodi, San Joaquin County, California, USA, Plot: Trees Block 6086, Space 8

35

Dina Zimbelman
Cherokee Memorial Park, Lodi, San Joaquin County, California, USA

36

Dolores Lorrine Tschritter
Cherokee Memorial Park, Lodi, San Joaquin County, California, USA, Plot: Gospels Blk 4528 Sp 3, GPS (lat/lon): 38.10236, -121.25777

37

Don John Boehler
Cherokee Memorial Park, Lodi, San Joaquin County, California, USA, Plot: Gospels Blk 4528 Sp 4, GPS (lat/lon): 38.10235, -121.25777

38

Donald Ullmann
Cherokee Memorial Park, Lodi, San Joaquin County, California, USA

39

Dorothea Rudolph
Cherokee Memorial Park, Lodi, San Joaquin County, California, USA

40

Edna Ella Martha Giese
Cherokee Memorial Park, Lodi, San Joaquin County, California, USA

41

Ella Ester Pietz
Cherokee Memorial Park, Lodi, San Joaquin County, California, USA, Plot: Garden of the Gospels, Block 4607, Space 5, GPS (lat/lon): 38.10229, -121.25834

42

Ella Norma Betz
Cherokee Memorial Park, Lodi, San Joaquin County, California, USA

43

Elmer LaVerne Meier
Cherokee Memorial Park, Lodi, San Joaquin County, California, USA

44

Elsie Schill
Cherokee Memorial Park, Lodi, San Joaquin County, California, USA

45

Emelia Ruff
Cherokee Memorial Park, Lodi, San Joaquin County, California, USA

46

Emil E. Kast
Cherokee Memorial Park, Lodi, San Joaquin County, California, USA, Plot: Gospels Blk 3610 Sp 3, GPS (lat/lon): 38.10294, -121.25825

47

Emil Seefried
Cherokee Memorial Park, Lodi, San Joaquin County, California, USA

48

Emilie Hamm
Cherokee Memorial Park, Lodi, San Joaquin County, California, USA, Plot: Garden of Hymns Blk 1803 Sp 4, GPS (lat/lon): 38.10466, -121.25889

49

Emily Myrtle Merrill
Cherokee Memorial Park, Lodi, San Joaquin County, California, USA, Plot: Block 127 Space 7

50

Emma Aman
Cherokee Memorial Park, Lodi, San Joaquin County, California, USA, Plot: Garden of the Last Supper block 662 space 7

51

Emma Kungel
Cherokee Memorial Park, Lodi, San Joaquin County, California, USA, Plot: Gospels Blk 4701 Sp 2, GPS (lat/lon): 38.10224, -121.25856

52

Emma Ottmar
Cherokee Memorial Park, Lodi, San Joaquin County, California, USA, Plot: Memories Blk 1440 Sp 7, GPS (lat/lon): 38.10488, -121.25774

53

Esther Martha Hochhalter
Cherokee Memorial Park, Lodi, San Joaquin County, California, USA, Plot: Garden of Prayers Blk 160 Sp 3, GPS (lat/lon): 38.10378, -121.25811

54

Esther R. Brown
Cherokee Memorial Park, Lodi, San Joaquin County, California, USA

55

Esther Ruth Hieb
Cherokee Memorial Park, Lodi, San Joaquin County, California, USA, Plot: Old Park . Blk 1914 . Sp 1, GPS (lat/lon): 38.10382, -121.25958

56

Eunice Zimbelmann
Cherokee Memorial Park, Lodi, San Joaquin County, California, USA

57

Fredrich Tschritter
Cherokee Memorial Park, Lodi, San Joaquin County, California, USA, Plot: Garden of Prayers Blk 160 Sp 4, GPS (lat/lon): 38.10378, -121.25811

58

Fredrick Michael Spitzer
Cherokee Memorial Park, Lodi, San Joaquin County, California, USA, Plot: Holy Family, Block 1151, Space 6, GPS (lat/lon): 38.10595, -121.25783

59

Frieda Zimbelman
Cherokee Memorial Park, Lodi, San Joaquin County, California, USA, Plot: Last Supper Blk 709 Sp 1, GPS (lat/lon): 38.10411, -121.2581

60

Gail Annette Schweitz
Cherokee Memorial Park, Lodi, San Joaquin County, California, USA, Plot: Garden of Angels, Block 1683, Space 2, GPS (lat/lon): 38.10633, -121.25687

61

George Washington Schmiedt
Cherokee Memorial Park, Lodi, San Joaquin County, California, USA, Plot: Garden of the Gospels, Block 4607, Space 6, GPS (lat/lon): 38.10225, -121.25841

62

Geraldine Buttell
Cherokee Memorial Park, Lodi, San Joaquin County, California, USA

63

Gideon Zimbelmann
Cherokee Memorial Park, Lodi, San Joaquin County, California, USA

64

Heinrich Fuchs
Cherokee Memorial Park, Lodi, San Joaquin County, California, USA, Plot: Old Park, Block 2538, Space 4, GPS (lat/lon): 38.10352, -121.25893

65

Helen Isaak
Cherokee Memorial Park, Lodi, San Joaquin County, California, USA, Plot: Garden of the Gospels Blk 5146 Sp 7, GPS (lat/lon): 38.10193, -121.25728

66

Helen Leona Broeckel
Cherokee Memorial Park, Lodi, San Joaquin County, California, USA, Plot: Garden of Hymns, Block 2009, Space 7, GPS (lat/lon): 38.10449, -121.25867

67

Henry Louis Nuss
Cherokee Memorial Park, Lodi, San Joaquin County, California, USA

68

Howard Ervin Bender
Cherokee Memorial Park, Lodi, San Joaquin County, California, USA, Plot: Garden of Trees, Block 7069, Space 6

69

Hulda Hoff
Cherokee Memorial Park, Lodi, San Joaquin County, California, USA

70

Huldry C. Hieb
Cherokee Memorial Park, Lodi, San Joaquin County, California, USA, Plot: Hymns Blk 2105 Sp 3, GPS (lat/lon): 38.10446, -121.25895

71

Ida Hasart
Cherokee Memorial Park, Lodi, San Joaquin County, California, USA

72

Ida Lachenmayer
Cherokee Memorial Park, Lodi, San Joaquin County, California, USA,
PLOT: Garden of Memories Blk 1746 Sp 3

73

Ilene Caroline Storz
Cherokee Memorial Park, Lodi, San Joaquin County, California, USA

74

Irene Alma Clark
Cherokee Memorial Park, Lodi, San Joaquin County, California, USA Plot: Gospels in Block #4536 in Space #3

75

Jacob Fred Goebel
Cherokee Memorial Park, Lodi, San Joaquin County, California, USA

76

Jacob Philip Philippi
Cherokee Memorial Park, Lodi, San Joaquin County, California, USA

77

Jakob Hochhalter
Cherokee Memorial Park, Lodi, San Joaquin County, California, USA

78

Jakob Zimbelmann
Cherokee Memorial Park, Lodi, San Joaquin County, California, USA

79

James R. Lexau
Cherokee Memorial Park, Lodi, San Joaquin County, California, USA

80

Jay William Baumgartner
Cherokee Memorial Park, Lodi, San Joaquin County, California, USA

81

Johann Zimbelmann
Cherokee Memorial Park, Lodi, San Joaquin County, California, USA

82

John Bentz
Cherokee Memorial Park, Lodi, San Joaquin County, California, USA, Plot: Garden of Last Supper Blk 530 Sp 6, GPS (lat/lon): 38.10432, -121.25747

83

John Blumenhardt
Cherokee Memorial Park, Lodi, San Joaquin County, California, USA, Plot: Gospels Blk 4701 Sp 1, GPS (lat/lon): 38.10225, -121.25854

84

John Fraszer
Cherokee Memorial Park, Lodi, San Joaquin County, California, USA, Plot: Garden of the Last Supper block 662 space 8

85

John Llewellyn Dahl
Cherokee Memorial Park, Lodi, San Joaquin County, California, USA

86

Joseph M. Naegeli
Cherokee Memorial Park, Lodi, San Joaquin County, California, USA

87

Joseph V. Weinberger
Cherokee Memorial Park, Lodi, San Joaquin County, California, USA, Plot: Garden of Trees, Block 7166, Space 4

88

June Kathryn Naegeli
Cherokee Memorial Park, Lodi, San Joaquin County, California, USA

89

Kermith W. Lehr
Cherokee Memorial Park, Lodi, San Joaquin County, California, USA, Plot: Memories Block 1267, Space 6

90

LaVera Christine Moser
Cherokee Memorial Park, Lodi, San Joaquin County, California, USA, Plot: Garden of Trees, Block 7069, Space 6

91

Leone M. Fraszer
Cherokee Memorial Park, Lodi, San Joaquin County, California, USA, Plot: Garden of Trees Blk 6496 Sp 8, GPS (lat/lon): 38.10275, -121.25869

92

Lillian C. Zimmerman
Cherokee Memorial Park, Lodi, San Joaquin County, California, USA

93

Lloyd Delmar Joksch
Cherokee Memorial Park, Lodi, San Joaquin County, California, USA, Plot: Last Supper Blk 709 Sp 2, GPS (lat/lon): 38.10411, -121.2581

94

Longines Bitz
Cherokee Memorial Park, Lodi, San Joaquin County, California, USA, Plot: Garden of Memories, block 2161, space 7

95

Loretta Stroh
Cherokee Memorial Park, Lodi, San Joaquin County, California, USA

96

Louis Lehr
Cherokee Memorial Park, Lodi, San Joaquin County, California, USA

97

Luisa Zimbelmann
Cherokee Memorial Park, Lodi, San Joaquin County, California, USA

98

Margaretha Nuss
Cherokee Memorial Park, Lodi, San Joaquin County, California, USA

99

Martha H. Hoffer
Cherokee Memorial Park, Lodi, San Joaquin County, California, USA

100

Martha Ruth Lehr
Cherokee Memorial Park, Lodi, San Joaquin County, California, USA, Plot: Garden of Memories, block 2161, space 7

101

Mary Lou Lindsay
Cherokee Memorial Park, Lodi, San Joaquin County, California, USA, Plot: Remembrance, East Block 267, Space 8

102

Melbert Lehr
Cherokee Memorial Park, Lodi, San Joaquin County, California, USA, Plot: Memories . Blk 1542 . Sp 7, GPS (lat/lon): 38.10479, -121.25772

103

Melvin Erfle Schmiedt
Cherokee Memorial Park, Lodi, San Joaquin County, California, USA, Plot: Garden of Gospels . Blk 4609 . Sp 2, GPS (lat/lon): 38.10231, -121.25834

104

Mildred M. Lehr
Cherokee Memorial Park, Lodi, San Joaquin County, California, USA

105

Olinda Johanna Hofmann
Cherokee Memorial Park, Lodi, San Joaquin County, California, USA

106

Otto L. Dahl
Cherokee Memorial Park, Lodi, San Joaquin County, California, USA

107

Pauline K. Krueger
Cherokee Memorial Park, Lodi, San Joaquin County, California, USA

108

Pauline S. Schmiedt
Cherokee Memorial Park, Lodi, San Joaquin County, California, USA, Plot: Garden of the Gospels, Blk 4607, Sp 1, GPS (lat/lon): 38.10228, -121.25831

109

Rachel Tahran
Cherokee Memorial Park, Lodi, San Joaquin County, California, USA,
Plot: Last Supper Blk 708 Sp 3, GPS (lat/lon): 38.10411, -121.25813

110

Regina Bachmann
Cherokee Memorial Park, Lodi, San Joaquin County, California, USA

111

Reinhold Sayler
Cherokee Memorial Park, Lodi, San Joaquin County, California, USA, Plot: Garden of Hymns Block 1613 Space

112

Rex Leland Gigax
Cherokee Memorial Park, Lodi, San Joaquin County, California, USA, Plot: Garden of the Gospels, Blk 4607, Sp 2, GPS (lat/lon): 38.1023, -121.25832

113

Richard Christian Jenner
Cherokee Memorial Park, Lodi, San Joaquin County, California, USA

114

Robert Fleck
Cherokee Memorial Park, Lodi, San Joaquin County, California, USA

115

Ronald V. Klarer
Cherokee Memorial Park, Lodi, San Joaquin County, California, USA

116

Rosalia Zimbelmann
Cherokee Memorial Park, Lodi, San Joaquin County, California, USA

117

Rose M. Moser
Cherokee Memorial Park, Lodi, San Joaquin County, California, USA

118

Ruben Moser
Cherokee Memorial Park, Lodi, San Joaquin County, California, USA

119

Rubin Will
Cherokee Memorial Park, Lodi, San Joaquin County, California, USA

120

Ruth Buttell
Cherokee Memorial Park, Lodi, San Joaquin County, California, USA

121

Ruth Zimmerman
Cherokee Memorial Park, Lodi, San Joaquin County, California, USA

122

Samuel Ullmann
Cherokee Memorial Park, Lodi, San Joaquin County, California, USA

123

Theodor Moser
Cherokee Memorial Park, Lodi, San Joaquin County, California, USA

124

Theodore Alvin Wittmayer
Cherokee Memorial Park, Lodi, San Joaquin County, California, USA

125

Theodore Ernest Nicolaus
Cherokee Memorial Park, Lodi, San Joaquin County, California, USA

126

Theodore Eugene Nickel
Cherokee Memorial Park, Lodi, San Joaquin County, California, USA

127

Verona Anna Hoeppner
Cherokee Memorial Park, Lodi, San Joaquin County, California, USA

128

Viola P. Lehr
Cherokee Memorial Park, Lodi, San Joaquin County, California, USA

129

Violet M. Seibel
Cherokee Memorial Park, Lodi, San Joaquin County, California, USA

130

Violt Jane Mettler
Cherokee Memorial Park, Lodi, San Joaquin County, California, USA

131

Walter Dockter
Cherokee Memorial Park, Lodi, San Joaquin County, California, USA

132

Walter George Lachenmayer
Cherokee Memorial Park, Lodi, San Joaquin County, California, USA

133

Walter Vernon Lehr
Cherokee Memorial Park, Lodi, San Joaquin County, California, USA

134

Wilhelm August Hoeppner
Cherokee Memorial Park, Lodi, San Joaquin County, California, USA

135

Wilhelm C. Ochsner
Cherokee Memorial Park, Lodi, San Joaquin County, California, USA

136

William A. Lehr
Cherokee Memorial Park, Lodi, San Joaquin County, California, USA
Alle Beerdigungen
#

Nachname, Taufnamen

Begraben

Personen-Kennung

1.
Ackerman, Katharina
gest. 11 Apr 1957
Cherokee Memorial Park, Lodi, San Joaquin County, California, USA
I56715
2.
Addington, Anna Mae
gest. 28 Jul 1993
Cherokee Memorial Park, Lodi, San Joaquin County, California, USA
I183842
3.
Addington, Thomas Hardin
gest. 15 Okt 1995
Cherokee Memorial Park, Lodi, San Joaquin County, California, USA
I183846
4.
Addington, Thomas Lloyd
gest. 1 Jan 1977
Cherokee Memorial Park, Lodi, San Joaquin County, California, USA
I183845
5.
Aman, Emma
gest. 1 Jan 1994
Cherokee Memorial Park, Lodi, San Joaquin County, California, USA
I171663
6.
Anhorn, Emilie
gest. 19 Jan 1974
Cherokee Memorial Park, Lodi, San Joaquin County, California, USA
I137111
7.
Bachmann, Regina
gest. 21 Jul 1969
Cherokee Memorial Park, Lodi, San Joaquin County, California, USA
I1729
8.
Bachmann B., Barbara
gest. 16 Nov 1961
Cherokee Memorial Park, Lodi, San Joaquin County, California, USA
I13322
9.
Bauer, Ardis Vyra
gest. 20 Nov 1991
Cherokee Memorial Park, Lodi, San Joaquin County, California, USA
I173610
10.
Bauer, Arthur Wilton
gest. 9 Sep 1976
Cherokee Memorial Park, Lodi, San Joaquin County, California, USA
I118354
11.
Baumgartner, Albert Wilhelm
gest. 11 Nov 1996
Cherokee Memorial Park, Lodi, San Joaquin County, California, USA
I183841
12.
Baumgartner, Jay William
gest. 15 Jun 1992
Cherokee Memorial Park, Lodi, San Joaquin County, California, USA
I183843
13.
Baumgartner, Matilda Christina
gest. 27 Jul 2011
Cherokee Memorial Park, Lodi, San Joaquin County, California, USA
I183844
14.
Baumgärtner, Wilhelm
gest. 23 Jan 1965
Cherokee Memorial Park, Lodi, San Joaquin County, California, USA
I183840
15.
Bender, Alfred M.
begr. 31 Jul 1977
Cherokee Memorial Park, Lodi, San Joaquin County, California, USA
I137207
16.
Bender, Howard Ervin
gest. 11 Mai 2001
Cherokee Memorial Park, Lodi, San Joaquin County, California, USA
I34272
17.
Bender, John August
gest. 2 Sep 1949
Cherokee Memorial Park, Lodi, San Joaquin County, California, USA
I137197
18.
Bender, John August Jr.
gest. 25 Aug 1971
Cherokee Memorial Park, Lodi, San Joaquin County, California, USA
I137203
19.
Bender, Raymond Clyde
gest. 23 Sep 1995
Cherokee Memorial Park, Lodi, San Joaquin County, California, USA
I3955
20.
Bentz, Benjamin
gest. 27 Jan 1998
Cherokee Memorial Park, Lodi, San Joaquin County, California, USA
I89107
21.
Bentz, John Sr.
begr. 11 Jan 1967
Cherokee Memorial Park, Lodi, San Joaquin County, California, USA
I89104
22.
Berg, Leonard Jacob Sr.
gest. 1 Apr 1982
Cherokee Memorial Park, Lodi, San Joaquin County, California, USA
I37878
23.
Betz, Ella Norma
gest. 5 Nov 1988
Cherokee Memorial Park, Lodi, San Joaquin County, California, USA
I149644
24.
Betz, William Arthur
gest. 26 Jan 1985
Cherokee Memorial Park, Lodi, San Joaquin County, California, USA
I149652
25.
Bitz, Longines
gest. 8 Jun 1982
Cherokee Memorial Park, Lodi, San Joaquin County, California, USA
I173518
26.
Blumhardt, John
gest. 17 Mrz 1985
Cherokee Memorial Park, Lodi, San Joaquin County, California, USA
I152408
27.
Boehler, Don John
gest. 21 Apr 2011
Cherokee Memorial Park, Lodi, San Joaquin County, California, USA
I94783
28.
Borth, Paulina
gest. 28 Apr 1967
Cherokee Memorial Park, Lodi, San Joaquin County, California, USA
I65961
29.
Broeckel, Helen Leona
gest. 30 Mai 1989
Cherokee Memorial Park, Lodi, San Joaquin County, California, USA
I170433
30.
Broin, Anna Gurine
gest. 22 Mrz 1957
Cherokee Memorial Park, Lodi, San Joaquin County, California, USA
I159283
31.
Brown, Esther R.
gest. 2 Jan 2009
Cherokee Memorial Park, Lodi, San Joaquin County, California, USA
I173534
32.
Buttell, Dean William
gest. 31 Okt 2001
Cherokee Memorial Park, Lodi, San Joaquin County, California, USA
I149638
33.
Buttell, Edwin
gest. 31 Jan 1953
Cherokee Memorial Park, Lodi, San Joaquin County, California, USA
I13331
34.
Buttell, Geraldine
gest. 1 Jan 2015
Cherokee Memorial Park, Lodi, San Joaquin County, California, USA
I149636
35.
Clark, Irene Alma
begr. 28 Jan 2003
Cherokee Memorial Park, Lodi, San Joaquin County, California, USA
I115542
36.
Cook, Avis Lucille
gest. 25 Aug 1994
Cherokee Memorial Park, Lodi, San Joaquin County, California, USA
I172833
37.
Dahl, Arlie Lester
gest. 20 Sep 1994
Cherokee Memorial Park, Lodi, San Joaquin County, California, USA
I159279
38.
Dahl, John Llewellyn
gest. 3 Dez 1994
Cherokee Memorial Park, Lodi, San Joaquin County, California, USA
I159284
39.
Dahl, Otto L.
gest. 1 Mrz 1965
Cherokee Memorial Park, Lodi, San Joaquin County, California, USA
I159282
40.
Dockter, Walter
gest. 25 Jan 2000
Cherokee Memorial Park, Lodi, San Joaquin County, California, USA
I111822
41.
Duckworth, Clyde F.
gest. 26 Feb 1976
Cherokee Memorial Park, Lodi, San Joaquin County, California, USA
I3676
42.
Ebertz, Erna Emillie
gest. 12 Okt 1983
Cherokee Memorial Park, Lodi, San Joaquin County, California, USA
I137109
43.
Fleck, Robert
gest. 22 Feb 1994
Cherokee Memorial Park, Lodi, San Joaquin County, California, USA
I3682
44.
Fraszer, John
gest. 3 Aug 1978
Cherokee Memorial Park, Lodi, San Joaquin County, California, USA
I171664
45.
Fraszer, Leone M.
gest. 22 Mrz 2007
Cherokee Memorial Park, Lodi, San Joaquin County, California, USA
I171669
46.
Frey, Edward
gest. 29 Mrz 1988
Cherokee Memorial Park, Lodi, San Joaquin County, California, USA
I65281
47.
Fuchs, Heinrich
gest. 31 Mrz 1949
Cherokee Memorial Park, Lodi, San Joaquin County, California, USA
I159164
48.
Fuchs, Marie Christina
gest. 12 Dez 2001
Cherokee Memorial Park, Lodi, San Joaquin County, California, USA
I180036
49.
Fuhrmann, Katharina
gest. 11 Sep 1983
Cherokee Memorial Park, Lodi, San Joaquin County, California, USA
I19402
50.
Giese, Edna Ella Martha
gest. 8 Aug 1994
Cherokee Memorial Park, Lodi, San Joaquin County, California, USA
I159278
51.
Gigax, Rex Leland
gest. 25 Nov 1993
Cherokee Memorial Park, Lodi, San Joaquin County, California, USA
I172808
52.
Goebel, Jacob Fred
gest. 15 Jul 1952
Cherokee Memorial Park, Lodi, San Joaquin County, California, USA
I158896
53.
Goebel, Lydia E.
gest. 14 Jan 1959
Cherokee Memorial Park, Lodi, San Joaquin County, California, USA
I171711
54.
Gruebele, Rose Caroline
gest. 16 Jul 1990
Cherokee Memorial Park, Lodi, San Joaquin County, California, USA
I181832
55.
Gunsch, Gideon
gest. 28 Okt 191985
Cherokee Memorial Park, Lodi, San Joaquin County, California, USA
I65704
56.
Hamm, Emilie
gest. 7 Okt 1965
Cherokee Memorial Park, Lodi, San Joaquin County, California, USA
I172837
57.
Harmon, Charlie P.
gest. 12 Mai 1984
Cherokee Memorial Park, Lodi, San Joaquin County, California, USA
I180033
58.
Hasart, Ida
gest. 18 Dez 1981
Cherokee Memorial Park, Lodi, San Joaquin County, California, USA
I149653
59.
Heer, Alvin A.
gest. 2 Jul 1972
Cherokee Memorial Park, Lodi, San Joaquin County, California, USA
I169520
60.
Hieb, Betty J.
gest. 11 Sep 2000
Cherokee Memorial Park, Lodi, San Joaquin County, California, USA
I180032
61.
Hieb, Esther Ruth
gest. 7 Apr 1952
Cherokee Memorial Park, Lodi, San Joaquin County, California, USA
I180022
62.
Hieb, Gideon William
gest. 25 Dez 1990
Cherokee Memorial Park, Lodi, San Joaquin County, California, USA
I180035
63.
Hieb, Huldry C.
gest. 7 Nov 1976
Cherokee Memorial Park, Lodi, San Joaquin County, California, USA
I180021
64.
Hieb, Jacob A.
gest. 23 Apr 1943
Cherokee Memorial Park, Lodi, San Joaquin County, California, USA
I16192
65.
Hieb, William W.
gest. 3 Sep 1967
Cherokee Memorial Park, Lodi, San Joaquin County, California, USA
I63581
66.
Hintz, Mathilda
begr. 4 Sep 1987
Cherokee Memorial Park, Lodi, San Joaquin County, California, USA
I3769
67.
Hochhalter, Esther Martha
gest. 9 Mrz 1956
Cherokee Memorial Park, Lodi, San Joaquin County, California, USA
I37862
68.
Hochhalter, Jakob Sr.
gest. 11 Nov 1952
Cherokee Memorial Park, Lodi, San Joaquin County, California, USA
I1464
69.
Hoeppner, Alice May
gest. 17 Mai 2014
Cherokee Memorial Park, Lodi, San Joaquin County, California, USA
I172845
70.
Hoeppner, Verona Anna
gest. 1 Jul 1988
Cherokee Memorial Park, Lodi, San Joaquin County, California, USA
I172835
71.
Hoeppner, Wilhelm August
gest. 19 Nov 1953
Cherokee Memorial Park, Lodi, San Joaquin County, California, USA
I172836
72.
Hoff, Hulda
gest. 15 Dez 1985
Cherokee Memorial Park, Lodi, San Joaquin County, California, USA
I181823
73.
Hoffer, Magdalena
gest. 8 Jan 1961
Cherokee Memorial Park, Lodi, San Joaquin County, California, USA
I157197
74.
Hoffer, Martha H.
gest. 16 Okt 2006
Cherokee Memorial Park, Lodi, San Joaquin County, California, USA
I157262
75.
Hofman, Clara Margaretha
gest. 21 Mai 1972
Cherokee Memorial Park, Lodi, San Joaquin County, California, USA
I34261
76.
Hofman, Olinda Johanna
gest. 22 Jul 1988
Cherokee Memorial Park, Lodi, San Joaquin County, California, USA
I3613
77.
Horst, Theobold Sr.
gest. 29 Mrz 1980
Cherokee Memorial Park, Lodi, San Joaquin County, California, USA
I1789
78.
Isaak, Helen
gest. 20 Dez 2007
Cherokee Memorial Park, Lodi, San Joaquin County, California, USA
I89108
79.
Jenner, Richard Christian
gest. 26 Mai 1992
Cherokee Memorial Park, Lodi, San Joaquin County, California, USA
I1788
80.
Kammerer, Christina
gest. 22 Dez 1983
Cherokee Memorial Park, Lodi, San Joaquin County, California, USA
I85426
81.
Kast, Emil E.
gest. 10 Mrz 1999
Cherokee Memorial Park, Lodi, San Joaquin County, California, USA
I156736
82.
Klarer, Ronald V.
gest. 22 Mai 1992
Cherokee Memorial Park, Lodi, San Joaquin County, California, USA
I172269
83.
Kluck, Minnie Hilda
gest. 5 Mrz 1992
Cherokee Memorial Park, Lodi, San Joaquin County, California, USA
I146036
84.
Kost, Christina
gest. 22 Okt 1941
Cherokee Memorial Park, Lodi, San Joaquin County, California, USA
I16184
85.
Krueger, Pauline K.
gest. 16 Dez 1965
Cherokee Memorial Park, Lodi, San Joaquin County, California, USA
I35159
86.
Kungel, Emma
gest. 9 Sep 1992
Cherokee Memorial Park, Lodi, San Joaquin County, California, USA
I152409
87.
Lachenmayer, Ida - wife of
gest. 1976
Cherokee Memorial Park, Lodi, San Joaquin County, California, USA
I181922
88.
Lachenmayer, Walter George
gest. 31 Okt 1992
Cherokee Memorial Park, Lodi, San Joaquin County, California, USA
I181844
89.
Lehr, Andrew F.
gest. 7 Apr 1977
Cherokee Memorial Park, Lodi, San Joaquin County, California, USA
I170686
90.
Lehr, David Michael
gest. 24 Okt 1971
Cherokee Memorial Park, Lodi, San Joaquin County, California, USA
I171735
91.
Lehr, Deborah Jane
gest. 28 Jan 2007
Cherokee Memorial Park, Lodi, San Joaquin County, California, USA
I171766
92.
Lehr, Kermith W.
gest. 16 Jan 1977
Cherokee Memorial Park, Lodi, San Joaquin County, California, USA
I171712
93.
Lehr, Louis
gest. 22 Apr 1980
Cherokee Memorial Park, Lodi, San Joaquin County, California, USA
I173515
94.
Lehr, Martha Rurh
gest. 10 Mai 1999
Cherokee Memorial Park, Lodi, San Joaquin County, California, USA
I173517
95.
Lehr, Melbert
gest. 1 Jul 2017
Cherokee Memorial Park, Lodi, San Joaquin County, California, USA
I171733
96.
Lehr, Mildred Mae
gest. 1965
Cherokee Memorial Park, Lodi, San Joaquin County, California, USA
I173531
97.
Lehr, Viola P.
gest. 12 Aug 2003
Cherokee Memorial Park, Lodi, San Joaquin County, California, USA
I173506
98.
Lehr, Walter Vernon
gest. 8 Jan 1993
Cherokee Memorial Park, Lodi, San Joaquin County, California, USA
I173533
99.
Lehr, William A.
gest. 27 Dez 2004
Cherokee Memorial Park, Lodi, San Joaquin County, California, USA
I171647
100.
Lindsay, Mary Lou
gest. 6 Sep 2016
Cherokee Memorial Park, Lodi, San Joaquin County, California, USA
I171648
101.
Mauch, Arthur
gest. 19 Jan 1980
Cherokee Memorial Park, Lodi, San Joaquin County, California, USA
I170434
102.
Meier, Albina
gest. 29 Mai 1971
Cherokee Memorial Park, Lodi, San Joaquin County, California, USA
I180034
103.
Meier, Elmer LaVerne Sr.
gest. 27 Mrz 1983
Cherokee Memorial Park, Lodi, San Joaquin County, California, USA
I172846
104.
Meisner, Amalia
gest. 3 Okt 1949
Cherokee Memorial Park, Lodi, San Joaquin County, California, USA
I159165
105.
Merrill, Emily Myrtle
gest. 16 Aug 1969
Cherokee Memorial Park, Lodi, San Joaquin County, California, USA
I171638
106.
Meservy, Alta
gest. 11 Aug 2005
Cherokee Memorial Park, Lodi, San Joaquin County, California, USA
I181124
107.
Mettler, Violet Jane
gest. 27 Feb 2009
Cherokee Memorial Park, Lodi, San Joaquin County, California, USA
I137218
108.
Miller, Katherine
gest. 5 Mrz 1966
Cherokee Memorial Park, Lodi, San Joaquin County, California, USA
I61963
109.
Moser, Elisabeth
begr. 6 Aug 1963
Cherokee Memorial Park, Lodi, San Joaquin County, California, USA
I5405
110.
Moser, LaVera Christine
gest. 10 Dez 2004
Cherokee Memorial Park, Lodi, San Joaquin County, California, USA
I34262
111.
Moser, Ruben
gest. 18 Sep 2009
Cherokee Memorial Park, Lodi, San Joaquin County, California, USA
I34263
112.
Moser, Theodor
begr. 24 Feb 1951
Cherokee Memorial Park, Lodi, San Joaquin County, California, USA
I34247
113.
Moser, Vernita Clara
gest. 5 Mai 2009
Cherokee Memorial Park, Lodi, San Joaquin County, California, USA
I34266
114.
Mueller, Anna Regina
gest. 15 Jan 1985
Cherokee Memorial Park, Lodi, San Joaquin County, California, USA
I173516
115.
Naegeli, Joseph M.
gest. 25 Feb 1965
Cherokee Memorial Park, Lodi, San Joaquin County, California, USA
I159286
116.
Naegeli, June Kathryn
gest. 9 Okt 2001
Cherokee Memorial Park, Lodi, San Joaquin County, California, USA
I159285
117.
Neff, Barbara D.
gest. 2015
Cherokee Memorial Park, Lodi, San Joaquin County, California, USA
I158975
118.
Niceswonger, Henry H.
gest. 14 Okt 1961
Cherokee Memorial Park, Lodi, San Joaquin County, California, USA
I5215
119.
Nickel, Theodore Eugene
gest. 27 Aug 1983
Cherokee Memorial Park, Lodi, San Joaquin County, California, USA
I715
120.
Nicolaus, Theodore Ernest
gest. Jan 1985
Cherokee Memorial Park, Lodi, San Joaquin County, California, USA
I35130
121.
Nuss, Alfred Wilhelm
gest. 5 Apr 1969
Cherokee Memorial Park, Lodi, San Joaquin County, California, USA
I1787
122.
Nuss, Henry Louis
gest. 2 Sep 1983
Cherokee Memorial Park, Lodi, San Joaquin County, California, USA
I149641
123.
Nuss, Margaretha
gest. 21 Jan 1951
Cherokee Memorial Park, Lodi, San Joaquin County, California, USA
I1730
124.
Oates, Robert Paul
gest. 7 Dez 1999
Cherokee Memorial Park, Lodi, San Joaquin County, California, USA
I8775
125.
Ochsner, John A.
begr. 17 Jun 1996
Cherokee Memorial Park, Lodi, San Joaquin County, California, USA
I5438
126.
Ochsner, Leah
gest. 16 Mai 1970
Cherokee Memorial Park, Lodi, San Joaquin County, California, USA
I13323
127.
Ochsner, Theodore Calvin
gest. 2 Mai 1982
Cherokee Memorial Park, Lodi, San Joaquin County, California, USA
I32916
128.
Ochsner, Wilhelm C.
gest. 31 Jan 1964
Cherokee Memorial Park, Lodi, San Joaquin County, California, USA
I13044
129.
Ottmar, Emma
gest. 21 Feb 1984
Cherokee Memorial Park, Lodi, San Joaquin County, California, USA
I169437
130.
Perman, Clara M.
gest. 21 Dez 1987
Cherokee Memorial Park, Lodi, San Joaquin County, California, USA
I157169
131.
Peter, Heinrich
gest. 17 Mrz 1971
Cherokee Memorial Park, Lodi, San Joaquin County, California, USA
I2874
132.
Peter, Olga Lydia
begr. 13 Jun 1986
Cherokee Memorial Park, Lodi, San Joaquin County, California, USA
I5437
133.
Philippi, Jacob Philip
gest. 1 Mrz 1952
Cherokee Memorial Park, Lodi, San Joaquin County, California, USA
I1785
134.
Pietz, Ella Ester
gest. 20 Jul 2005
Cherokee Memorial Park, Lodi, San Joaquin County, California, USA
I172813
135.
Preszler, Martha
begr. 6 Feb 1975
Cherokee Memorial Park, Lodi, San Joaquin County, California, USA
I86786
136.
Preszler, Rosina
gest. DECEASED
Cherokee Memorial Park, Lodi, San Joaquin County, California, USA
I86787
137.
Pudwill, Katharina
gest. 29 Jul 1980
Cherokee Memorial Park, Lodi, San Joaquin County, California, USA
I136324
138.
Rath, Barbara
begr. 18 Nov 1982
Cherokee Memorial Park, Lodi, San Joaquin County, California, USA
I42103
139.
Reich, Christina
gest. 17 Jul 1992
Cherokee Memorial Park, Lodi, San Joaquin County, California, USA
I1792
140.
Ridinger, Emma
gest. 8 Nov 2000
Cherokee Memorial Park, Lodi, San Joaquin County, California, USA
I32912
141.
Rudolph, Dorothea
gest. 18 Aug 1962
Cherokee Memorial Park, Lodi, San Joaquin County, California, USA
I37641
142.
Ruff, Emelia
gest. 17 Mrz 1966
Cherokee Memorial Park, Lodi, San Joaquin County, California, USA
I158895
143.
Sayler, Reinhold
begr. 10 Aug 1981
Cherokee Memorial Park, Lodi, San Joaquin County, California, USA
I42063
144.
Schaffer, Benjamin
gest. 26 Mrz 1997
Cherokee Memorial Park, Lodi, San Joaquin County, California, USA
I149637
145.
Schatz, Cleola R.
gest. 30 Sep 1998
Cherokee Memorial Park, Lodi, San Joaquin County, California, USA
I172268
146.
Schauer, Adam
begr. 23 Dez 1971
Cherokee Memorial Park, Lodi, San Joaquin County, California, USA
I62637
147.
Schauer, Bertha Katherine
gest. 23 Jan 1985
Cherokee Memorial Park, Lodi, San Joaquin County, California, USA
I62533
148.
Schauer, Iona Ruth
begr. 12 Dez 1984
Cherokee Memorial Park, Lodi, San Joaquin County, California, USA
I62655
149.
Schauer, Pauline
gest. 20 Okt 1963
Cherokee Memorial Park, Lodi, San Joaquin County, California, USA
I65960
150.
Schauer, Reuben
gest. 9 Dez 1997
Cherokee Memorial Park, Lodi, San Joaquin County, California, USA
I62651
151.
Schenkenberger, Paulina
gest. 11 Dez 1955
Cherokee Memorial Park, Lodi, San Joaquin County, California, USA
I137198
152.
Schickel, Georg Phillip
gest. 22 Okt 1966
Cherokee Memorial Park, Lodi, San Joaquin County, California, USA
I177268
153.
Schill, Elsie
gest. 22 Mrz 2003
Cherokee Memorial Park, Lodi, San Joaquin County, California, USA
I158891
154.
Schmidt, Christina
gest. 21 Dez 1967
Cherokee Memorial Park, Lodi, San Joaquin County, California, USA
I183839
155.
Schmiedt, Clifford Harold
gest. 8 Okt 1981
Cherokee Memorial Park, Lodi, San Joaquin County, California, USA
I172832
156.
Schmiedt, George Washington
gest. 5 Jun 1992
Cherokee Memorial Park, Lodi, San Joaquin County, California, USA
I172812
157.
Schmiedt, Melvin Erfle
gest. 20 Jan 1989
Cherokee Memorial Park, Lodi, San Joaquin County, California, USA
I172834
158.
Schmiedt, Pauline S.
gest. 23 Jun 1997
Cherokee Memorial Park, Lodi, San Joaquin County, California, USA
I172807
159.
Schmierer, Edmund Edward
gest. 12 Aug 1972
Cherokee Memorial Park, Lodi, San Joaquin County, California, USA
I146035
160.
Schmierer, Ella Katherina
gest. 14 Dez 1991
Cherokee Memorial Park, Lodi, San Joaquin County, California, USA
I146033
161.
Schultz, Katharina
begr. 2 Jan 1939
Cherokee Memorial Park, Lodi, San Joaquin County, California, USA
I84182
162.
Schweigert, Anna
gest. 2 Sep 1980
Cherokee Memorial Park, Lodi, San Joaquin County, California, USA
I89103
163.
Schweitz, Albert A.
gest. 2004
Cherokee Memorial Park, Lodi, San Joaquin County, California, USA
I173507
164.
Schweitz, Gail Annette
gest. Apr 2014
Cherokee Memorial Park, Lodi, San Joaquin County, California, USA
I173508
165.
Schweitz, Gary Paul
gest. 22 Jun 2007
Cherokee Memorial Park, Lodi, San Joaquin County, California, USA
I173510
166.
Seefried, Emil
gest. 10 Dez 1969
Cherokee Memorial Park, Lodi, San Joaquin County, California, USA
I158893
167.
Seibel, Violet M.
gest. 13 Dez 2008
Cherokee Memorial Park, Lodi, San Joaquin County, California, USA
I118355
168.
Shults, Charles Harris
gest. 25 Feb 1956
Cherokee Memorial Park, Lodi, San Joaquin County, California, USA
I8778
169.
Spitzer, Fredrick Michael
gest. 16 Mai 2014
Cherokee Memorial Park, Lodi, San Joaquin County, California, USA
I158974
170.
Spitzer, Leo E.
gest. 1 Jun 1999
Cherokee Memorial Park, Lodi, San Joaquin County, California, USA
I158971
171.
Storz, Ilene Caroline
gest. 16 Feb 1992
Cherokee Memorial Park, Lodi, San Joaquin County, California, USA
I149639
172.
Stroh, Loretta
begr. 12 Dez 2008
Cherokee Memorial Park, Lodi, San Joaquin County, California, USA
I111823
173.
Stroh, Martha
begr. 28 Apr 2004
Cherokee Memorial Park, Lodi, San Joaquin County, California, USA
I85949
174.
Tahran, Rachel
begr. 21 Apr 2008
Cherokee Memorial Park, Lodi, San Joaquin County, California, USA
I79945
175.
Tschritter, Dolores Lorrine
begr. 12 Jun 2009
Cherokee Memorial Park, Lodi, San Joaquin County, California, USA
I94784
176.
Tschritter, Fredrich
gest. 9 Mai 1993
Cherokee Memorial Park, Lodi, San Joaquin County, California, USA
I37874
177.
Ullmann, Donald
gest. 7 Feb 1976
Cherokee Memorial Park, Lodi, San Joaquin County, California, USA
I4357
178.
Ullmann, Samuel
gest. 21 Aug 1975
Cherokee Memorial Park, Lodi, San Joaquin County, California, USA
I1763
179.
Vossler, Adam
gest. 5 Jan 1971
Cherokee Memorial Park, Lodi, San Joaquin County, California, USA
I146034
180.
Wacker, Friedrich Jacob
gest. 3 Jan 1968
Cherokee Memorial Park, Lodi, San Joaquin County, California, USA
I19400
181.
Wacker, Linda
gest. 25 Okt 1980
Cherokee Memorial Park, Lodi, San Joaquin County, California, USA
I19406
182.
Wagenmann, John E.
gest. 19 Mai 1942
Cherokee Memorial Park, Lodi, San Joaquin County, California, USA
I157198
183.
Weinberger, Joseph V.
gest. 19 Sep 2004
Cherokee Memorial Park, Lodi, San Joaquin County, California, USA
I8773
184.
Will, Rubin
gest. 3 Jun 1998
Cherokee Memorial Park, Lodi, San Joaquin County, California, USA
I3640
185.
Wittmayer, Theodore Alvin
gest. 26 Nov 1987
Cherokee Memorial Park, Lodi, San Joaquin County, California, USA
I181123
186.
Zenk, Ruben
gest. 11 Jul 1968
Cherokee Memorial Park, Lodi, San Joaquin County, California, USA
I3679
187.
Ziemann, Friedrich Christian
begr. 31 Jul 1970
Cherokee Memorial Park, Lodi, San Joaquin County, California, USA
I3768
188.
Zimbelman, Albert
gest. 21 Aug 1967
Cherokee Memorial Park, Lodi, San Joaquin County, California, USA
I3143
189.
Zimbelman, Alvin
gest. 20 Jul 1997
Cherokee Memorial Park, Lodi, San Joaquin County, California, USA
I1779
190.
Zimbelman, Amalia Lorraine
gest. 13 Aug 2004
Cherokee Memorial Park, Lodi, San Joaquin County, California, USA
I300
191.
Zimbelman, Christina
gest. 20 Mai 1969
Cherokee Memorial Park, Lodi, San Joaquin County, California, USA
I1772
192.
Zimbelman, Dina
gest. 25 Apr 1991
Cherokee Memorial Park, Lodi, San Joaquin County, California, USA
I1771
193.
Zimbelman, Ephraim
gest. 25 Mrz 1988
Cherokee Memorial Park, Lodi, San Joaquin County, California, USA
I1777
194.
Zimbelman, Esther
gest. 29 Feb 1996
Cherokee Memorial Park, Lodi, San Joaquin County, California, USA
I1798
195.
Zimbelman, Frieda
gest. 6 Mai 1989
Cherokee Memorial Park, Lodi, San Joaquin County, California, USA
I1774
196.
Zimbelman, Lolita Christina
gest. 31 Aug 2001
Cherokee Memorial Park, Lodi, San Joaquin County, California, USA
I8774
197.
Zimbelman, Vivian Elizabeth
gest. 25 Mrz 1993
Cherokee Memorial Park, Lodi, San Joaquin County, California, USA
I8772
198.
Zimbelmann, Calvin
gest. 27 Sep 1983
Cherokee Memorial Park, Lodi, San Joaquin County, California, USA
I1797
199.
Zimbelmann, Eunice
gest. 30 Dez 2008
Cherokee Memorial Park, Lodi, San Joaquin County, California, USA
I1800
200.
Zimbelmann, Gertrude
gest. 25 Jan 1989
Cherokee Memorial Park, Lodi, San Joaquin County, California, USA
I1799
201.
Zimbelmann, Gideon
gest. 3 Dez 1955
Cherokee Memorial Park, Lodi, San Joaquin County, California, USA
I1775
202.
Zimbelmann, Jakob
gest. 7 Jan 1953
Cherokee Memorial Park, Lodi, San Joaquin County, California, USA
I1615
203.
Zimbelmann, Johann
gest. 19 Okt 1962
Cherokee Memorial Park, Lodi, San Joaquin County, California, USA
I1616
204.
Zimbelmann, Luisa
gest. 21 Mrz 1994
Cherokee Memorial Park, Lodi, San Joaquin County, California, USA
I1769
205.
Zimbelmann, Rosalia
gest. 8 Aug 1981
Cherokee Memorial Park, Lodi, San Joaquin County, California, USA
I1770
206.
Zimmerman, Lillian C.
gest. 25 Dez 1975
Cherokee Memorial Park, Lodi, San Joaquin County, California, USA
I159287
207.
Zimmerman, Ruth
gest. 6 Jun 2006
Cherokee Memorial Park, Lodi, San Joaquin County, California, USA
I171734
208.
Zimmermann, Elisabeth
gest. 16 Okt 1953
Cherokee Memorial Park, Lodi, San Joaquin County, California, USA
I5959
209.
Zorbanos, Gost
gest. 5 Mai 1968
Cherokee Memorial Park, Lodi, San Joaquin County, California, USA
I157210