Orchard Mesa Cemetery, Grand Junction, Mesa County, Colorado, USA

OpenStreetMap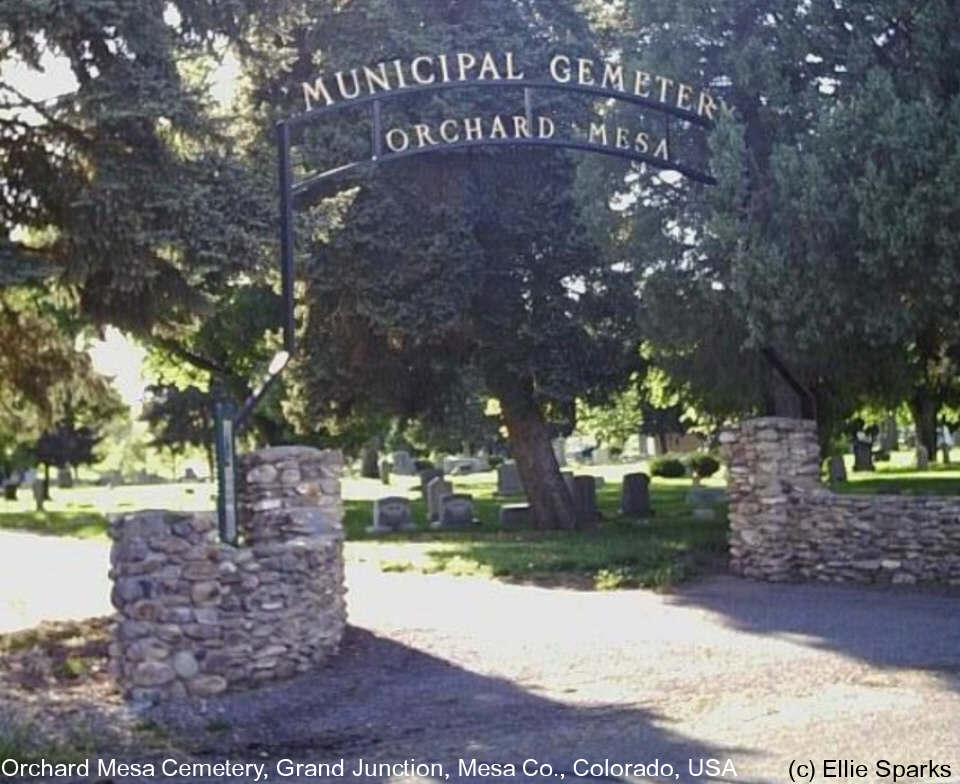 Notizen:
9.878 Graves (Jan 2018)
26 1/4 Rd, Grand Junction, Mesa County, Colorado, USA
Cemetery notes and/or description:
The Orchard Mesa Cemetery has nine different sections which are very much like cemeteries themselves. They have signs and fences or borders around many of them. The nine cemeteries include: Municipal, Fair View, Ohr Shalom, St. Anthony, Calvary, Masonic, Odd Fellows, Veterans, Orchard Mesa. They are listed separately for Findagrave purposes.
Friedhofs-Fotos
Vorschaubild
Beschreibung

1

E. Chester Gigax
Orchard Mesa Cemetery, Grand Junction, Mesa County, Colorado, USA, Plot: Upper A Block

2

Stella D. Gigax
Orchard Mesa Cemetery, Grand Junction, Mesa County, Colorado, USA, Plot: Upper A Block
Alle Beerdigungen
#

Nachname, Taufnamen

Begraben

Personen-Kennung

1.
Gigax, E. Chester
gest. 1944
Orchard Mesa Cemetery, Grand Junction, Mesa County, Colorado, USA
I172809
2.
Gigax, Stella D. - wife of
gest. 1941
Orchard Mesa Cemetery, Grand Junction, Mesa County, Colorado, USA
I172810