Crane Community Cemetery, Crane, Stone County, Missouri, USA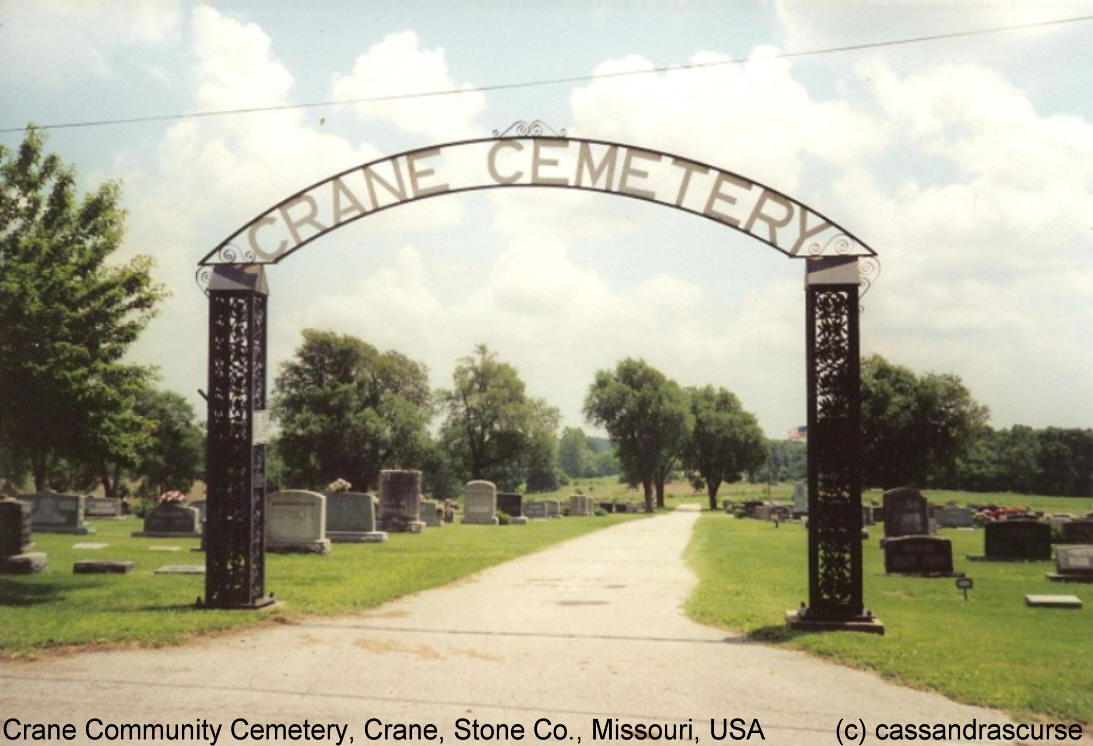 Notizen:
2.671 Graves (Sep 2018)
Myrtle St, Crane, Stone County, Missouri, USA
Also known as Crane Masonic Cemetery
Crane Community Cemetery, located in the northeast part of the city, was established in 1917. There are more than 2,600 people buried there as of 1/1/2016. The management and maintenance was provided by the Crane Masonic Lodge No. 519 until the late 1990's. Crane Lodge merged with Galena Lodge #515 and the Cemetery became known Officially as Crane Community Cemetery and was re-organized as a non-endowed cemetery with 5 Board Members and officers.
Geographische Breite: 36.904736, Geographische Länge: -93.5573919
Friedhofs-Fotos
Vorschaubild
Beschreibung

1

LaMoyne M. Hummel
Crane Community Cemetery, Crane, Stone County, Missouri, USA, PLOT: Sec IV Row C Lot 12 Grave 4

2

Paul F. Hummel
Crane Community Cemetery, Crane, Stone County, Missouri, USA, PLOT: Sec IV Row C Lot 12 Grave 4
Alle Beerdigungen
#

Nachname, Taufnamen

Begraben

Personen-Kennung

1.
Hummel, Paul F.
gest. 5 Mrz 2007
Crane Community Cemetery, Crane, Stone County, Missouri, USA
I183173