Resurrection Cemetery, Affton, Saint Louis County, Missouri, USA

OpenStreetMap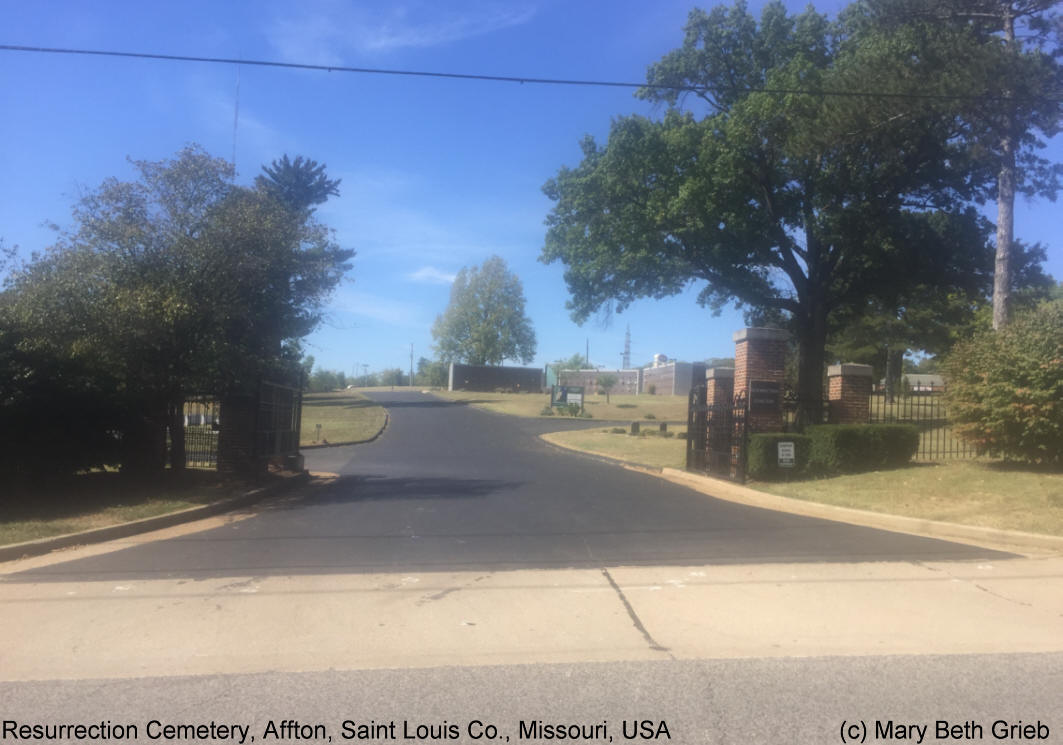 Notizen:
62.960 Graves (Dez 2018)
6901 Mackenzie Road, Affton, Saint Louis County, Missouri, USA
Also known as New Saints Peter and Paul Cemetery, Saints Peter and Paul Cemetery
Resurrection Cemetery is one of the Catholic Cemeteries of the Archdiocese of St. Louis, Missouri. Resurrection is the site of the main office for the south county cemeteries. These cemeteries are: Resurrection, Sts. Peter and Paul, Mt. Olive, St. Peter, Holy Cross, St. Vincent & Ascension.
Established: 1928.
Friedhofs-Fotos
Vorschaubild
Beschreibung

1

Ann Marie Zimbelmann
Resurrection Cemetery, Affton, Saint Louis County, Missouri, USA

2

Gutweiler, William J.
Resurrection Cemetery, Affton, Saint Louis County, Missouri, USA

3

Linda Sue Zimbelmann
Resurrection Cemetery, Affton, Saint Louis County, Missouri, USA

4

Theresa M. Zimbelmann
Resurrection Cemetery, Affton, Saint Louis County, Missouri, USA

5

Zimbelmann, Claude George
Resurrection Cemetery, Affton, Saint Louis County, Missouri, USA
Alle Beerdigungen
#

Nachname, Taufnamen

Begraben

Personen-Kennung

1.
Gutweiler, Timothy David
gest. 11 Feb 1983
Resurrection Cemetery, Affton, Saint Louis County, Missouri, USA
I188713
2.
Gutweiler, William J.
gest. 11 Nov 1979
Resurrection Cemetery, Affton, Saint Louis County, Missouri, USA
I188654
3.
Rick, Anton John
gest. 25 Feb 1947
Resurrection Cemetery, Affton, Saint Louis County, Missouri, USA
I210587
4.
Rick, Louise C. - wife of
gest. 1978
Resurrection Cemetery, Affton, Saint Louis County, Missouri, USA
I210588
5.
Zimbelman, Elsie M.
gest. 5 Aug 2017
Resurrection Cemetery, Affton, Saint Louis County, Missouri, USA
I188653
6.
Zimbelmann, Linda Sue
gest. Feb 1975
Resurrection Cemetery, Affton, Saint Louis County, Missouri, USA
I188658