Oak Hill Cemetery, Taylorville, Christian County, Illinois, USA

OpenStreetMap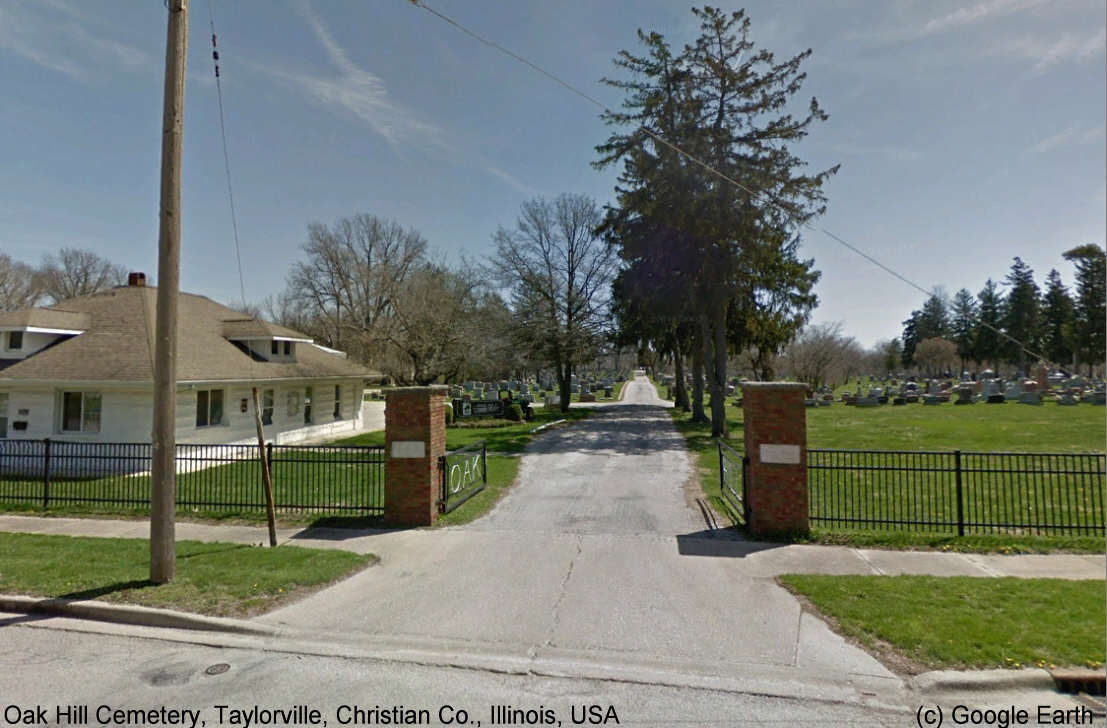 Notizen:
19.804 Graves (Sep 2019)
820 South Cherokee Street, Taylorville, Christian County, Illinois, USA
Oak Hill Cemetery is in the South East of town on Cherokee Street. Founded in 1842 with the first burial in July of 1842. There is a few older graves. Today it covers 100 acres and has 20,000 burials.
Friedhofs-Fotos
Vorschaubild
Beschreibung

1

Roland, Anna M.
Oak Hill Cemetery, Taylorville, Christian County, Illinois, USA

2

Wright, Napoleon Bonapart
Oak Hill Cemetery, Taylorville, Christian County, Illinois, USA

3

Zimbelman, John O.
Oak Hill Cemetery, Taylorville, Christian County, Illinois, USA

4

Zimpleman, Josephine Cecelia
Oak Hill Cemetery, Taylorville, Christian County, Illinois, USA

5

Zimpleman, Rose Marie
Oak Hill Cemetery, Taylorville, Christian County, Illinois, USA
Alle Beerdigungen
#

Nachname, Taufnamen

Begraben

Personen-Kennung

1.
Baldwin, Berverly James
gest. 7 Jan 1928
Oak Hill Cemetery, Taylorville, Christian County, Illinois, USA
I204198
2.
Baldwin, Lydia May
gest. 23 Dez 1953
Oak Hill Cemetery, Taylorville, Christian County, Illinois, USA
I204197
3.
Elmore, Lloyd F.
gest. 15 Dez 1957
Oak Hill Cemetery, Taylorville, Christian County, Illinois, USA
I211162
4.
Roland, Anna M.
gest. 26 Jun 1959
Oak Hill Cemetery, Taylorville, Christian County, Illinois, USA
I211160
5.
Wright, Martin Luther
gest. 15 Aug 1936
Oak Hill Cemetery, Taylorville, Christian County, Illinois, USA
I204196
6.
Wright, Napoleon Bonapart
gest. 13 Feb 1961
Oak Hill Cemetery, Taylorville, Christian County, Illinois, USA
I204195
7.
Zimbelman, John O.
gest. 18 Jun 1958
Oak Hill Cemetery, Taylorville, Christian County, Illinois, USA
I211159
8.
Zimbelman, Margaret E.
gest. 23 Feb 2009
Oak Hill Cemetery, Taylorville, Christian County, Illinois, USA
I211161
9.
Zimpleman, Josephine Cecelia
gest. 25 Feb 1932
Oak Hill Cemetery, Taylorville, Christian County, Illinois, USA
I204187
10.
Zimpleman, Rose Marie
gest. 18 Aug 1987
Oak Hill Cemetery, Taylorville, Christian County, Illinois, USA
I204193