Bellefontaine Cemetery, Saint Louis, Saint Louis City, Missouri, USA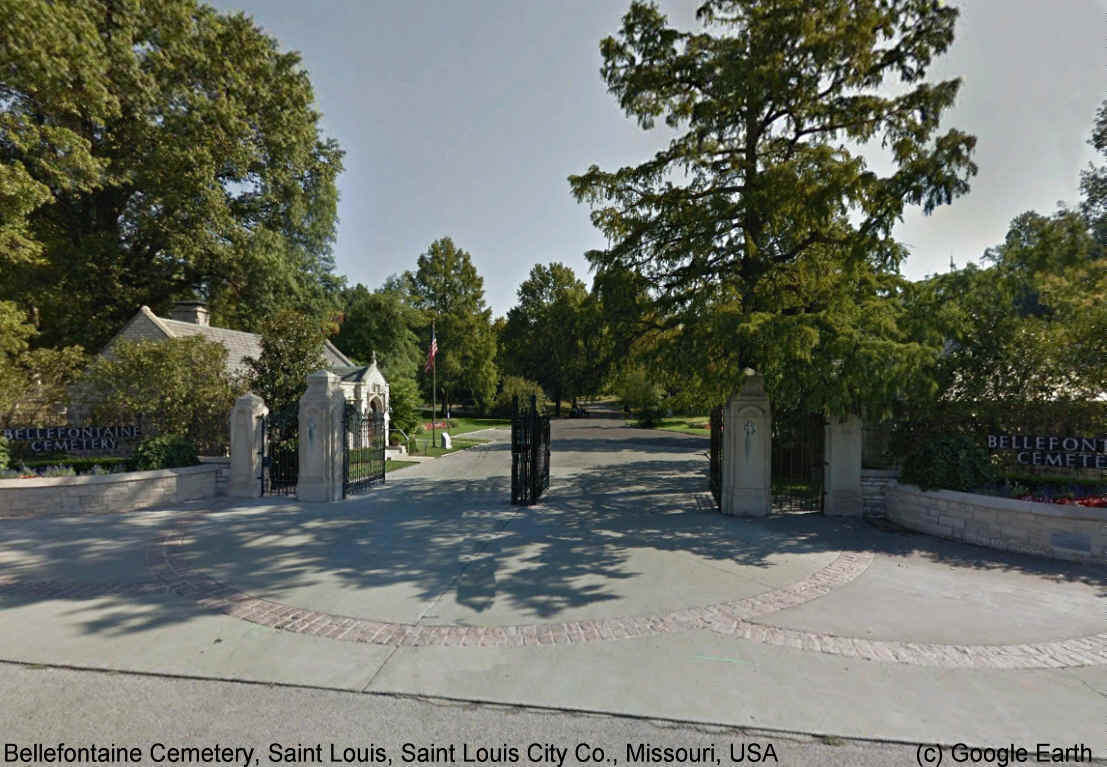 Notizen:
82.849 Graves (Mrz 2020)
4947 West Florissant Ave, Saint Louis, Saint Louis City, Missouri, USA
Historic Bellefontaine Cemetery, founded in St. Louis in 1849 as a non-sectarian community cemetery "open to all regardless of religious affiliations," contains nearly 400 acres of lush landscaping and architecturally-acclaimed monuments, mausoleums and memorial features that can be seen in a self-guided scenic tour of the cemetery's historical monuments and lots (inquire at the office). Conveniently located on West Florissant Avenue near the I-70 exit, the cemetery has extensive hard-surfaced roads which offer dramatic views of the grounds and the St. Louis metro area. A number of its memorials are listed on the National Register of Historic Places, including the grave site and obelisk of Gen. William Clark of the Lewis & Clark Expedition, the Louis Sullivan-designed landmark mausoleum of brewer Ellis Wainwright and his late wife, and the ornate Gothic mausoleum of brewer Adolphus Busch. Other notables from Bellefontaine's pantheon of historical personages include brewers Adolphus Busch, Eberhard Anheuser, William Lemp and Joseph Griesedieck; inventor William Burroughs and his namesake descendant, poet William S. Burroughs; Mississippi steamboat captain Isaiah Sellers (namesake of the pen name of noted American writer Mark Twain); and 1904 World's Fair president, Missouri governor, St. Louis mayor and diplomat David Rowland Francis. Scores of Civil War generals rest here from Union and Confederate sides, including Stephen Watts Kearney, Sterling Price, and Don Carlos Buell, as well as many Missouri governors and St. Louis mayors and civic leaders.
Friedhofs-Fotos
Vorschaubild
Beschreibung

1

Bryan, Bessie A.
Bellefontaine Cemetery, Saint Louis, St. Louis City, Missouri, USA

2

Zimpelman, Elora L.
Bellefontaine Cemetery, Saint Louis, St. Louis City, Missouri, USA

3

Zimpelman, Harry W.
Bellefontaine Cemetery, Saint Louis, St. Louis City, Missouri, USA

4

Zimpelmann, Harry C.
Bellefontaine Cemetery, Saint Louis, St. Louis City, Missouri, USA
Alle Beerdigungen
#

Nachname, Taufnamen

Begraben

Personen-Kennung

1.
Bryan, Bessie A.
gest. 17 Feb 1940
Bellefontaine Cemetery, Saint Louis, Saint Louis City, Missouri, USA
I204040
2.
Zimpelman, Elora L. - wife of
begr. 31 Dez 2002
Bellefontaine Cemetery, Saint Louis, Saint Louis City, Missouri, USA
I204042
3.
Zimpelman, Harry W.
begr. 7 Jul 1979
Bellefontaine Cemetery, Saint Louis, Saint Louis City, Missouri, USA
I204041
4.
Zimpelmann, Harry C.
gest. 12 Mai 1943
Bellefontaine Cemetery, Saint Louis, Saint Louis City, Missouri, USA
I204039