Paradise Cemetery, Paradise, Butte County, California, USA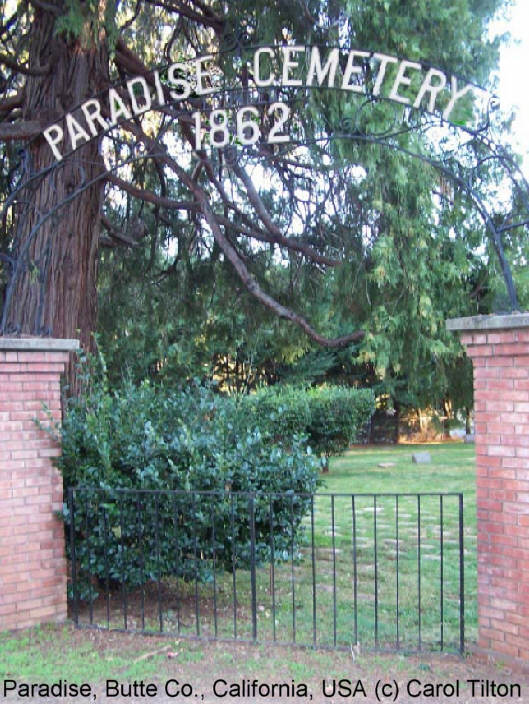 Notizen:
980 Elliott Road
Paradise
Butte County
California USA
Postal Code: 95969
Cemetery notes and/or description:
Located at 980 Elliott Road, between Skyway and Clark Road. Some maps may show another cemetery located on Roe Road in lower Paradise. This is a 36-acre piece of land owned by the Paradise Cemetery District.
Geographische Breite: 39.75806474321342, Geographische Länge: -121.6131591796875
Friedhofs-Fotos
Vorschaubild
Beschreibung

1

Betty Louise Bailey
Paradise Cemetery, Paradise, Butte County, California, USA

2

Clyde Zimbelman
Paradise Cemetery, Paradise, Butte County, California, USA
Alle Beerdigungen
#

Nachname, Taufnamen

Begraben

Personen-Kennung

1.
Bailey, Betty Louise
gest. 9 Mrz 2011
Paradise Cemetery, Paradise, Butte County, California, USA
I3673
2.
Whisman, James Andrew
gest. 10 Jan 1927
Paradise Cemetery, Paradise, Butte County, California, USA
I26337
3.
Zimbelman, Clyde
gest. 27 Jun 2011
Paradise Cemetery, Paradise, Butte County, California, USA
I1784