Tahoma National Cemetery, Kent, King County, Washington, USA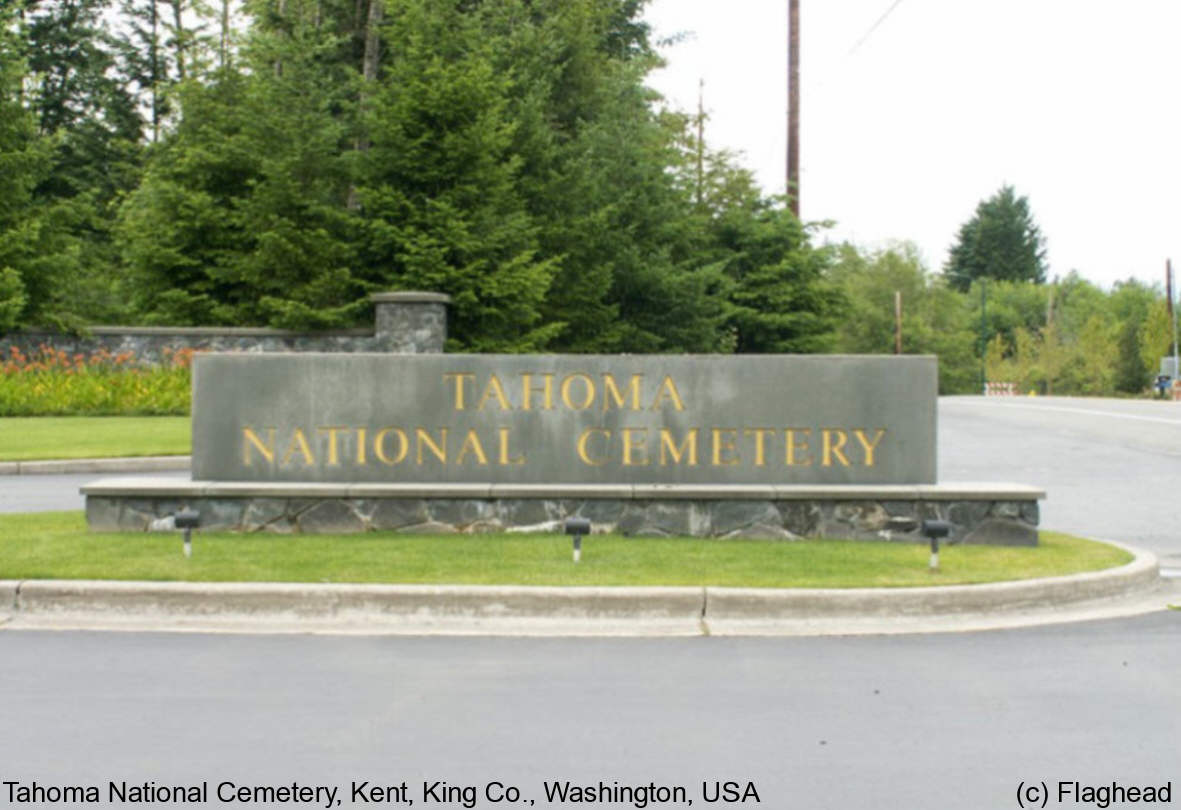 Notizen:
57.147 Graves (Mrz 2019)
18600 Southeast 240th Street, Kent, King County, Washington, USA
Cemetery notes and/or description:
Phone: 001-425-413-9614
Cemetery office is open Monday thru Friday 8:00 a.m. to 4:30 p.m.
Closed federal holidays except Memorial Day and Veterans Day.
Cemetery Visitation Hours: Open daily from sunrise to sunset.
Directions from nearest airport:
From Sea-Tac Airport, take Interstate-5 southbound to exit 142A (Highway 18 Auburn/North Bend). Stay on Highway 18 for 13 miles. Take the S.E. 256th Street exit. At the stop sign turn left onto 256th Street. At the first traffic light, turn right onto 180th Avenue S.E. proceed straight after three way stop. At the stop sign, turn right onto 240th Street. Tahoma National Cemetery is ¼ mile on left.
Geographische Breite: 47.387428037612004, Geographische Länge: -122.09344625473022
Friedhofs-Fotos
Vorschaubild
Beschreibung

1

Albert Wilbert Lehr
Tahoma National Cemetery, Kent, King County, Washington, USA

2

Charles Raymond Zimbelman
Tahoma National Cemetery, Kent, King County, Washington, USA

3

Ervin Spitzer
Tahoma National Cemetery, Kent, King County, Washington, USA

4

George Frederick Fisher
Tahoma National Cemetery, Kent, King County, Washington, USA

5

Gladys Elizabeth Ulmer
Tahoma National Cemetery, Kent, King County, Washington, USA

6

Hubert Ackerman
Tahoma National Cemetery, Kent, King County, Washington, USA

7

Katherine Elizabeth Clark
Tahoma National Cemetery, Kent, King County, Washington, USA

8

Lenora Lovella Spitzer
Tahoma National Cemetery, Kent, King County, Washington, USA

9

Michael Vercheak
Tahoma National Cemetery, Kent, King County, Washington, USA

10

Milton I. Nazarenus
Tahoma National Cemetery, Kent, King County, Washington, USA
Alle Beerdigungen
#

Nachname, Taufnamen

Begraben

Personen-Kennung

1.
Ackerman, Hubert
gest. 4 Dez 2006
Tahoma National Cemetery, Kent, King County, Washington, USA
I116617
2.
Clark, Katherine Elizabeth
gest. 24 Mrz 2014
Tahoma National Cemetery, Kent, King County, Washington, USA
I148033
3.
Fisher, George Frederick
gest. 30 Jun 1996
Tahoma National Cemetery, Kent, King County, Washington, USA
I148034
4.
Lehr, Albert Wilbert
gest. 29 Sep 1998
Tahoma National Cemetery, Kent, King County, Washington, USA
I173529
5.
Nazarenus, Milton I.
gest. 27 Jun 2012
Tahoma National Cemetery, Kent, King County, Washington, USA
I95810
6.
Spitzer, Ervin
gest. 10 Mrz 2016
Tahoma National Cemetery, Kent, King County, Washington, USA
I158960
7.
Spitzer, Lenora Lovella - wife of
gest. 29 Dez 2012
Tahoma National Cemetery, Kent, King County, Washington, USA
I158961
8.
Ulmer, Gladys Elizabeth
gest. 15 Mai 2008
Tahoma National Cemetery, Kent, King County, Washington, USA
I33062
9.
Vercheak, Michael
gest. 19 Dez 2002
Tahoma National Cemetery, Kent, King County, Washington, USA
I33084
10.
Zimbelman, Charles Raymond
gest. 26 Okt 2007
Tahoma National Cemetery, Kent, King County, Washington, USA
I195118