National Memorial Cemetery of Arizona, Phoenix, Maricopa, Arizona, USA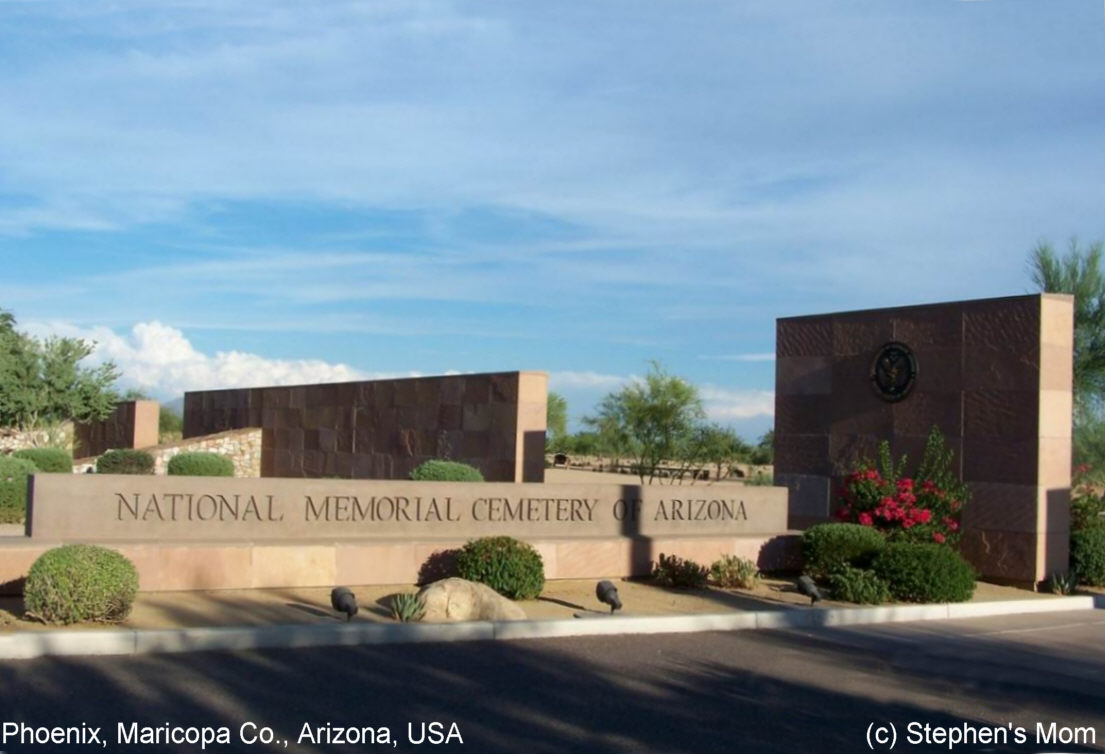 Notizen:
23029 North Cave Creek Road
Phoenix
Maricopa County
Arizona USA
Postal Code: 85024
Phone: 480-513-3600
Cemetery notes and/or description:
Office hours are Monday thru Friday 8:00 a.m. to 4:30 p.m.
Closed federal holidays except Memorial Day.
Cemetery Visitation Hours: Open daily from sunrise to sunset.
Directions from nearest airport:
From Airport: Take Interstate 10 West to State Route 51 North. Follow State Route 51 to Loop 101 West. Following Loop 101 West to Cave Creek Road. Turn North on Cave Creek Road to Pinnacle Peak Road, turn East on Pinnacle Peak Road and go ¼ mile. Cemetery will be on the right.
Friedhofs-Fotos
Vorschaubild
Beschreibung

1

Eugene Melvin Grimme
National Memorial Cemetery of Arizona, Phoenix, Maricopa County, Arizona, USA, Plot: Sec A10, Row C, Site 8

2

Theodore L. Faatz
National Memorial Cemetery of Arizona, Phoenix, Maricopa County, Arizona, USA, Plot: 46, 0, 1223

3

Violet Marion Vinson
National Memorial Cemetery of Arizona, Phoenix, Maricopa County, Arizona, USA, Plot: Sec A10, Row C, Site 8
Alle Beerdigungen
#

Nachname, Taufnamen

Begraben

Personen-Kennung

1.
Faatz, Theodore L.
gest. 11 Nov 1998
National Memorial Cemetery of Arizona, Phoenix, Maricopa, Arizona, USA
I37982
2.
Grimme, Eugene Melvin
gest. 20 Apr 2003
National Memorial Cemetery of Arizona, Phoenix, Maricopa, Arizona, USA
I135674
3.
Vinson, Violet Marion
gest. 10 Mai 2013
National Memorial Cemetery of Arizona, Phoenix, Maricopa, Arizona, USA
I135675