Montecito Memorial Park, Colton, San Bernardino County, California, USA

OpenStreetMap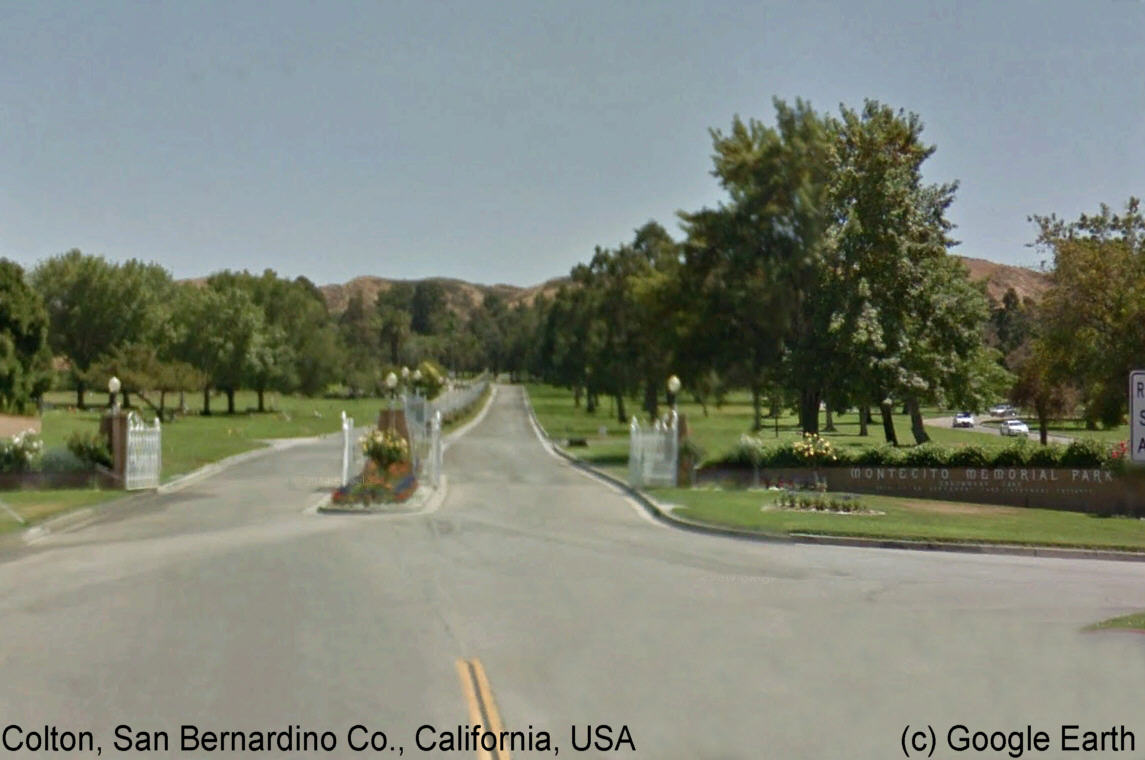 Notizen:
28.408 Graves (Jan 2019)
3520 E. Washington Street, Colton, San Bernardino County, California, USA
Cemetery notes and/or description:
Postal Code: 92324
Phone: 001-909-825-3024
This cemetery sits on the border of Colton and Loma Linda (Office has moved to Colton used to be in Loma Linda). Most of the cemetery is in Colton. Montecito was built in 1927. The original part had offices in Loma Linda, a new office was built in Colton including a chapel. The offices include offices for Our Lady Queen of Peace Cemetery, they have a seperate chapel next door. Office hours are from 8:30 am to 4:00 pm 7 days a week.
Friedhofs-Fotos
Vorschaubild
Beschreibung

1

Elizabeth L. Brandner
Montecito Memorial Park, Colton, San Bernardino County, California, USA

2

Flossie Altha Jose - 1940
Montecito Memorial Park, Colton, San Bernardino County, California, USA

3

Max H. Schumacher
Montecito Memorial Park, Colton, San Bernardino County, California, USA

4

Paul Clarence Hirning
Montecito Memorial Park, Colton, San Bernardino County, California, USA

5

Victor E. Gamber
Montecito Memorial Park, Colton, San Bernardino County, California, USA
Alle Beerdigungen
#

Nachname, Taufnamen

Begraben

Personen-Kennung

1.
Brandner, Elizabeth L.
gest. 6 Mai 1984
Montecito Memorial Park, Colton, San Bernardino County, California, USA
I158422
2.
Gamber, Jacob George
gest. 21 Dez 1940
Montecito Memorial Park, Colton, San Bernardino County, California, USA
I191014
3.
Gamber, Victor E.
gest. 1991
Montecito Memorial Park, Colton, San Bernardino County, California, USA
I191023
4.
Griess, Arthur Michael
gest. 9 Jun 2002
Montecito Memorial Park, Colton, San Bernardino County, California, USA
I142624
5.
Hirning, Paul Clarence
gest. 5 Jun 1945
Montecito Memorial Park, Colton, San Bernardino County, California, USA
I112438
6.
Jose, Flossie Altha
gest. 8 Sep 1961
Montecito Memorial Park, Colton, San Bernardino County, California, USA
I112439
7.
Sager, Ada Frances
gest. 29 Apr 1944
Montecito Memorial Park, Colton, San Bernardino County, California, USA
I191013
8.
Schumacher, Max H.
gest. 27 Mrz 1964
Montecito Memorial Park, Colton, San Bernardino County, California, USA
I158423