Fairmount Cemetery, Denver, Denver County, Colorado, USA

OpenStreetMap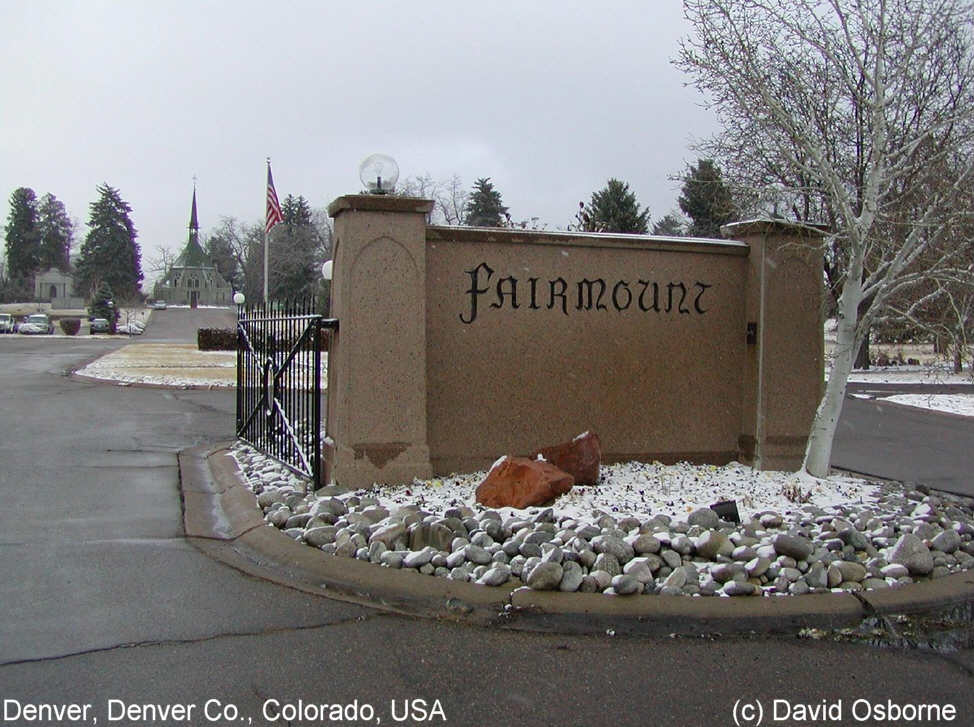 Notizen:
128.531 Graves (Jul 2019)
430 South Quebec St, Denver, Denver County, Colorado, USA
Also known as: Fairmont Cemetery
Phone: 001-303-399-0692
Fairmount is approximately 280-285 acres and was founded in 1890. There is approximately 177,000 people and more than 15,000 of those are entombed in the Fairmont Mausoleum
Fairmount was modeled, as were many 19th century cemeteries, after a well-landscaped cemeteries in the eastern United States, particularly Mt. Auburn Cemetery in Cambridge, MA. Fairmount was build 5 ½ miles southeast of downtown Denver in what was then the eastern plains of Colorado.
The Ivy Chapel designed by Denver architect Harry Ten Eych Wendell, the historic chapel was built in 1890. It is designated by the city of Denver as a Denver Historic Landmark. It was built in the style of 13th century Ecclesiastical French Gothic, and features gargoyles and flying buttresses.
The Gate Lodge designed by Harry Ten Eych Wendell and built in 1890, the Gate Lodge was the original home and office of the cemetery sexton. The arched entry was the original entrance into Fairmount. The building is now a Denver Historic Landmark and home of the Fairmount Heritage Foundation.
Fairmount Mausoleum built in 1929 in the depths of the Depression and opened on schedule in 1930. Hhe Fairmount Mausoleum contains more than 15,000 people. Such notables include Dr. Florence Sabin, Helen Bonfils, and Charles Boettcher. It houses a large and unique stained glass art collection.
The State of Colorado purchased land at Fairmount in 1900 for deceased Spanish-American War soldiers. In 1918, Fairmount donated Block 40 to the U.S. War Department for the burial of soldiers, sailors and marines who perished in World War I. The military area has now grown to include hundreds of veterans. Notable veterans who are buried in this area include Lt Francis B. Lowery, Medal of Honor recipients, Harold I. Johnson, and James H. Turpin. James is not in the Military area.
Friedhofs-Fotos
Vorschaubild
Beschreibung

1

Edna Abigail Work
Fairmount Cemetery, Denver, Denver County, Colorado, USA

2

Ernestine Feikert
Fairmount Cemetery, Denver, Denver County, Colorado, USA

3

Fredrich Jesser
Fairmount Cemetery, Denver, Denver County, Colorado, USA

4

Mary Margaret Jesser
Fairmount Cemetery, Denver, Denver County, Colorado, USA

5

Minor Dillon Coon
Fairmount Cemetery, Denver, Denver County, Colorado, USA

6

Philip Eberhart
Fairmount Cemetery, Denver, Denver County, Colorado, USA

7

Sophie Beatrice Prisner
Fairmount Cemetery, Denver, Denver County, Colorado, USA
Alle Beerdigungen
#

Nachname, Taufnamen

Begraben

Personen-Kennung

1.
Coon, Minor Dillon
gest. 18 Jan 1962
Fairmount Cemetery, Denver, Denver County, Colorado, USA
I39364
2.
Eberhart, Philip
gest. 15 Jun 1960
Fairmount Cemetery, Denver, Denver County, Colorado, USA
I106244
3.
Feikert, Ernestine
gest. 6 Mai 1971
Fairmount Cemetery, Denver, Denver County, Colorado, USA
I106249
4.
Jesser, Fredrich
begr. 28 Jan 1983
Fairmount Cemetery, Denver, Denver County, Colorado, USA
I39370
5.
Jesser, Mary Margaret
begr. 20 Okt 1972
Fairmount Cemetery, Denver, Denver County, Colorado, USA
I39363
6.
Prisner, Anna - wife of
gest. 1987
Fairmount Cemetery, Denver, Denver County, Colorado, USA
I201736
7.
Prisner, John
gest. 18 Jun 1975
Fairmount Cemetery, Denver, Denver County, Colorado, USA
I201735
8.
Prisner, Sophie Beatrice
gest. 23 Jul 2009
Fairmount Cemetery, Denver, Denver County, Colorado, USA
I201734
9.
Work, Edna Abigail
gest. 30 Sep 1993
Fairmount Cemetery, Denver, Denver County, Colorado, USA
I39371