Gackle Cemetery, Gackle, Logan County, North Dakota, USA

OpenStreetMap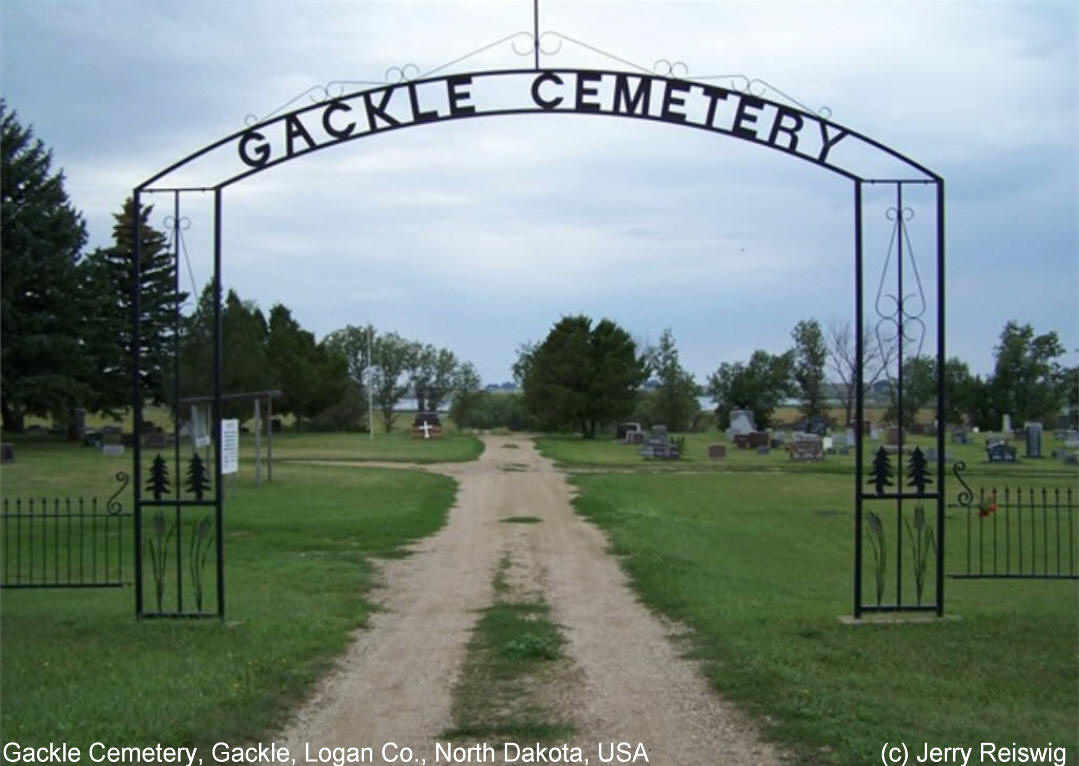 Notizen:
1.008 Graves (Sep 2018)
Spruce St W, Gackle, Logan County, North Dakota, USA
Cemetery notes and/or description:
The Gackle Cemetery, established in 1906 by Gackle pioneer George Elhard, was originally named Elhard Cemetery. George's son John P. Elhard was the first death and interment. In 1925 action was brought about by A. H. Haut to improve on the conditions of the cemetery. George Elhard offered to turn the cemetery over to the village of Gackle without cost to create a municipal cemetery. Evenually a cemetery board was organized, and a constitution and by-laws were drafted and aproved, The village board was named "The Gackle Cemetery Association" and recorded in the office of the Register of Deeds in Napoleon, ND, the county seat. It was registered as required with the State of ND as No.0245. Land was added over the years, and the sign at the gate was erected in 1943. The official name now is Gackle Cemetery. Many books put in the word 'City' probably to avoid confusion with other small, nearby cemeteries. Based on history published in Gackle Diamond Jubilee: 1904-1979, Gackle, North Dakota.
Friedhofs-Fotos
Vorschaubild
Beschreibung

1

Albert C. Remboldt
Gackle Cemetery, Gackle, Logan County, North Dakota, USA

2

Albert Fischer
Gackle Cemetery, Gackle, Logan County, North Dakota, USA

3

Alfred George Arthur Zillmer
Gackle Cemetery, Gackle, Logan County, North Dakota, USA

4

Annetta Christine Rudolph
Gackle Cemetery, Gackle, Logan County, North Dakota, USA

5

August F. Lang
vermutlich nicht hier begraben -
Gackle Cemetery, Gackle, Logan County, North Dakota, USA

6

Barbara Moos
Gackle Cemetery, Gackle, Logan County, North Dakota, USA

7

Bertha Rivinius
Gackle Cemetery, Gackle, Logan County, North Dakota, USA

8

Carol J. Olson
Gackle Cemetery, Gackle, Logan County, North Dakota, USA

9

Carolina Lang
Gackle Cemetery, Gackle, Logan County, North Dakota, USA

10

Chan Duane Burkle
Gackle Cemetery, Gackle, Logan County, North Dakota, USA

11

Christian Rembold
Gackle Cemetery, Gackle, Logan County, North Dakota, USA

12

Christina Hehn
Gackle Cemetery, Gackle, Logan County, North Dakota, USA

13

Christine Dorr
Gackle Cemetery, Gackle, Logan County, North Dakota, USA

14

Eduard Klundt
Gackle Cemetery Gackle, Logan County, North Dakota, USA

15

Edward C. Remboldt
Gackle Cemetery, Gackle, Logan County, North Dakota, USA

16

Edward Mueller
Gackle Cemetery, Gackle, Logan County, North Dakota, USA

17

Edward Otto
Gackle Cemetery, Gackle, Logan County, North Dakota, USA

18

Edward Schlenker
Gackle Cemetery, Gackle, Logan County, North Dakota, USA

19

Elisabetha Moos
Gackle Cemetery, Gackle, Logan County, North Dakota, USA

20

Elsie Muller
Gackle Cemetery, Gackle, Logan County, North Dakota, USA

21

Emma F. Hehn
vermutlich nicht hier begraben -
Gackle Cemetery, Gackle, Logan County, North Dakota, USA

22

Ernest Hehn
Gackle Cemetery, Gackle, Logan County, North Dakota, USA

23

Eva Aichele
Gackle Cemetery, Gackle, Logan County, North Dakota, USA

24

Fred F. Lang
Gackle Cemetery, Gackle, Logan County, North Dakota, USA

25

Friedrich Lehr
Gackle Cemetery, Gackle, Logan County, North Dakota, USA

26

Friedrich Rudolph
Gackle Cemetery, Gackle, Logan County, North Dakota, USA

27

Gottlieb Bender
Gackle Cemetery, Gackle, Logan County, North Dakota, USA

28

Helen Remboldt
Gackle Cemetery, Gackle, Logan County, North Dakota, USA

29

Helen Remboldt
Gackle Cemetery, Gackle, Logan County, North Dakota, USA

30

Henry Robert Remboldt
Gackle Cemetery, Gackle, Logan County, North Dakota, USA

31

Hulda Muller
Gackle Cemetery, Gackle, Logan County, North Dakota, USA

32

Hulda Sprecher
Gackle Cemetery, Gackle, Logan County, North Dakota, USA

33

Ida Hehn
Gackle Cemetery, Gackle, Logan County, North Dakota, USA

34

Johann Morlock
Gackle Cemetery, Gackle, Logan County, North Dakota, USA

35

Leonard Morlock
Gackle Cemetery, Gackle, Logan County, North Dakota, USA

36

Lillian Remboldt
Gackle Cemetery, Gackle, Logan County, North Dakota, USA

37

Michael Moos
Gackle Cemetery, Gackle, Logan County, North Dakota, USA

38

Oscar Remboldt
Gackle Cemetery, Gackle, Logan County, North Dakota, USA

39

Ottilie Schlecht
Gackle Cemetery, Gackle, Logan County, North Dakota, USA

40

Paul Schlenker
Gackle Cemetery, Gackle, Logan County, North Dakota, USA

41

Raymond Zillmer
Gackle Cemetery, Gackle, Logan County, North Dakota, USA

42

Renatha Rath
Gackle Cemetery, Gackle, Logan County, North Dakota, USA

43

Roger James Remboldt
Gackle Cemetery, Gackle, Logan County, North Dakota, USA

44

Roland C. Burkle
Gackle Cemetery, Gackle, Logan County, North Dakota, USA

45

Rudolph R. Bender
Gackle Cemetery, Gackle, Logan County, North Dakota, USA

46

Theodore Speidel
Gackle Cemetery, Gackle, Logan County, North Dakota, USA

47

Tillie Rivinius
Gackle Cemetery, Gackle, Logan County, North Dakota, USA

48

Unbekannt Burkle
Gackle Cemetery, Gackle, Logan County, North Dakota, USA
Alle Beerdigungen
#

Nachname, Taufnamen

Begraben

Personen-Kennung

1.
Aichele, Eva
begr. 8 Mrz 1967
Gackle Cemetery, Gackle, Logan County, North Dakota, USA
I115420
2.
Bender, Gottlieb
gest. 14 Okt 1928
Gackle Cemetery, Gackle, Logan County, North Dakota, USA
I115393
3.
Bender, Rudolph R.
gest. 20 Dez 1974
Gackle Cemetery, Gackle, Logan County, North Dakota, USA
I115888
4.
Bender, William
gest. vor Apr 1925
Gackle Cemetery, Gackle, Logan County, North Dakota, USA
I115482
5.
Burkle, Chan Duane
gest. 12 Jul 1964
Gackle Cemetery, Gackle, Logan County, North Dakota, USA
I146082
6.
Burkle, Unbekannt
gest. 2 Sep 1965
Gackle Cemetery, Gackle, Logan County, North Dakota, USA
I146083
7.
DeWald, Elsie Lydia
gest. 31 Jan 2018
Gackle Cemetery, Gackle, Logan County, North Dakota, USA
I111159
8.
Dockter, Twila
gest. 13 Apr 2006
Gackle Cemetery, Gackle, Logan County, North Dakota, USA
I108499
9.
Dorr, Christine
gest. 20 Apr 2000
Gackle Cemetery, Gackle, Logan County, North Dakota, USA
I115851
10.
Fischer, Albert
gest. 28 Jan 1977
Gackle Cemetery, Gackle, Logan County, North Dakota, USA
I115950
11.
Gienger, Erna
gest. 18 Sep 2006
Gackle Cemetery, Gackle, Logan County, North Dakota, USA
I141128
12.
Gomke, Olga
gest. 19 Aug 1989
Gackle Cemetery, Gackle, Logan County, North Dakota, USA
I141124
13.
Hehn, Alice
gest. 23 Dez 1985
Gackle Cemetery, Gackle, Logan County, North Dakota, USA
I115959
14.
Hehn, Christina
gest. 28 Jul 1960
Gackle Cemetery, Gackle, Logan County, North Dakota, USA
I115669
15.
Hehn, Ernest
gest. 19 Jul 1979
Gackle Cemetery, Gackle, Logan County, North Dakota, USA
I115892
16.
Hehn, Ida
gest. 1 Jan 1959
Gackle Cemetery, Gackle, Logan County, North Dakota, USA
I108502
17.
Hehn, Myron Ernest
gest. 23 Mrz 2016
Gackle Cemetery, Gackle, Logan County, North Dakota, USA
I173819
18.
Janke, Lloyd Paul
begr. 2 Aug 2003
Gackle Cemetery, Gackle, Logan County, North Dakota, USA
I108542
19.
Janke, Randy Chris
gest. 22 Sep 1958
Gackle Cemetery, Gackle, Logan County, North Dakota, USA
I116002
20.
Janke, Roanne Lee
gest. 14 Aug 1956
Gackle Cemetery, Gackle, Logan County, North Dakota, USA
I116001
21.
Klundt, Barbara
gest. 30 Sep 1906
Gackle Cemetery, Gackle, Logan County, North Dakota, USA
I111081
22.
Klundt, Eduard
gest. 18 Jul 1978
Gackle Cemetery, Gackle, Logan County, North Dakota, USA
I108390
23.
Klundt, Edwin
begr. 24 Mrz 2001
Gackle Cemetery, Gackle, Logan County, North Dakota, USA
I111093
24.
Klundt, Emil
begr. 11 Dez 1998
Gackle Cemetery, Gackle, Logan County, North Dakota, USA
I111092
25.
Klundt, John K.
gest. Nov 1988
Gackle Cemetery, Gackle, Logan County, North Dakota, USA
I111082
26.
Klundt, Lillian
gest. 18 Mrz 2003
Gackle Cemetery, Gackle, Logan County, North Dakota, USA
I108480
27.
Lang, Carolina
gest. 12 Jul 1965
Gackle Cemetery, Gackle, Logan County, North Dakota, USA
I115844
28.
Lang, Fred F.
gest. 29 Okt 1975
Gackle Cemetery, Gackle, Logan County, North Dakota, USA
I115562
29.
Lehr, Friedrich
gest. 15 Sep 1929
Gackle Cemetery, Gackle, Logan County, North Dakota, USA
I170860
30.
Lutz, Friederika
gest. 9 Aug 1930
Gackle Cemetery, Gackle, Logan County, North Dakota, USA
I115590
31.
Maier, Alice Faye
gest. 19 Mai 2009
Gackle Cemetery, Gackle, Logan County, North Dakota, USA
I115408
32.
Meisch, Frieda
gest. 6 Jan 1977
Gackle Cemetery, Gackle, Logan County, North Dakota, USA
I115937
33.
Moos, Barbara
gest. 19 Jan 1950
Gackle Cemetery, Gackle, Logan County, North Dakota, USA
I108391
34.
Moos, Edwin
gest. 19 Jan 1982
Gackle Cemetery, Gackle, Logan County, North Dakota, USA
I118771
35.
Moos, Elisabetha
gest. 10 Dez 1930
Gackle Cemetery, Gackle, Logan County, North Dakota, USA
I133894
36.
Moos, Elisabetha
gest. 20 Jun 1994
Gackle Cemetery, Gackle, Logan County, North Dakota, USA
I133896
37.
Moos, Michael
gest. 6 Sep 1930
Gackle Cemetery, Gackle, Logan County, North Dakota, USA
I101715
38.
Moos, Sophie
gest. 25 Mai 1968
Gackle Cemetery, Gackle, Logan County, North Dakota, USA
I133898
39.
Morlock, Johann
gest. 19 Mrz 1976
Gackle Cemetery, Gackle, Logan County, North Dakota, USA
I133897
40.
Morlock, Leonard
gest. 21 Dez 1992
Gackle Cemetery, Gackle, Logan County, North Dakota, USA
I133967
41.
Mueller, Edward
gest. 21 Mai 2006
Gackle Cemetery, Gackle, Logan County, North Dakota, USA
I115697
42.
Muller, Elsie
gest. 18 Jun 2010
Gackle Cemetery, Gackle, Logan County, North Dakota, USA
I141137
43.
Muller, Hulda
gest. 29 Mrz 2001
Gackle Cemetery, Gackle, Logan County, North Dakota, USA
I141129
44.
Münz, Christina
gest. 31 Mai 1938
Gackle Cemetery, Gackle, Logan County, North Dakota, USA
I115664
45.
Olson, Carol J.
gest. 31 Okt 1997
Gackle Cemetery, Gackle, Logan County, North Dakota, USA
I109372
46.
Otto, Edward
gest. 1 Mrz 1968
Gackle Cemetery, Gackle, Logan County, North Dakota, USA
I108688
47.
Presler, Cora
gest. 19 Dez 2016
Gackle Cemetery, Gackle, Logan County, North Dakota, USA
I184230
48.
Rath, Renatha
gest. 27 Sep 1996
Gackle Cemetery, Gackle, Logan County, North Dakota, USA
I133968
49.
Rembold, Ernst Joseph
gest. 28 Mai 1910
Gackle Cemetery, Gackle, Logan County, North Dakota, USA
I108341
50.
Remboldt, Albert C.
gest. 8 Jul 1986
Gackle Cemetery, Gackle, Logan County, North Dakota, USA
I115846
51.
Remboldt, Aleaine
gest. 20 Aug 1988
Gackle Cemetery, Gackle, Logan County, North Dakota, USA
I108543
52.
Remboldt, Christian
gest. 14 Dez 1968
Gackle Cemetery, Gackle, Logan County, North Dakota, USA
I108503
53.
Remboldt, Clayton Howard
begr. 6 Okt 2007
Gackle Cemetery, Gackle, Logan County, North Dakota, USA
I108500
54.
Remboldt, Clyde Clifton
gest. 4 Aug 2010
Gackle Cemetery, Gackle, Logan County, North Dakota, USA
I115407
55.
Remboldt, Delmer Ronald
gest. 31 Jan 1989
Gackle Cemetery, Gackle, Logan County, North Dakota, USA
I115975
56.
Remboldt, Dwight D.
begr. 20 Apr 1993
Gackle Cemetery, Gackle, Logan County, North Dakota, USA
I115854
57.
Remboldt, Edward C.
begr. 6 Dez 2002
Gackle Cemetery, Gackle, Logan County, North Dakota, USA
I108501
58.
Remboldt, Helen
begr. 12 Jun 1999
Gackle Cemetery, Gackle, Logan County, North Dakota, USA
I115561
59.
Remboldt, Helen
begr. 3 Aug 2000
Gackle Cemetery, Gackle, Logan County, North Dakota, USA
I115670
60.
Remboldt, Henry Robert
gest. 12 Jan 1954
Gackle Cemetery, Gackle, Logan County, North Dakota, USA
I115668
61.
Remboldt, Kevin Kent
begr. 30 Jun 1963
Gackle Cemetery, Gackle, Logan County, North Dakota, USA
I115419
62.
Remboldt, Kristy F.
gest. 14 Okt 1958
Gackle Cemetery, Gackle, Logan County, North Dakota, USA
I115858
63.
Remboldt, Lillian
begr. 1 Mrz 2009
Gackle Cemetery, Gackle, Logan County, North Dakota, USA
I115696
64.
Remboldt, Oscar
gest. 20 Jan 1991
Gackle Cemetery, Gackle, Logan County, North Dakota, USA
I115850
65.
Remboldt, Paulina
gest. 11 Feb 1929
Gackle Cemetery, Gackle, Logan County, North Dakota, USA
I115718
66.
Remboldt, Roger James
gest. 1 Aug 2004
Gackle Cemetery, Gackle, Logan County, North Dakota, USA
I109371
67.
Remboldt, Scott
gest. 19 Jun 2016
Gackle Cemetery, Gackle, Logan County, North Dakota, USA
I108504
68.
Rivinius, Bertha
gest. 11 Jun 1985
Gackle Cemetery, Gackle, Logan County, North Dakota, USA
I115891
69.
Rivinius, Conrad
gest. 30 Mrz 1997
Gackle Cemetery, Gackle, Logan County, North Dakota, USA
I115936
70.
Rivinius, Corinne Colette
gest. 14 Feb 2011
Gackle Cemetery, Gackle, Logan County, North Dakota, USA
I115947
71.
Rivinius, Johann
gest. 21 Okt 1940
Gackle Cemetery, Gackle, Logan County, North Dakota, USA
I101188
72.
Rivinius, Katherine
gest. 2 Feb 1989
Gackle Cemetery, Gackle, Logan County, North Dakota, USA
I115893
73.
Rivinius, Reuben
gest. 26 Apr 1989
Gackle Cemetery, Gackle, Logan County, North Dakota, USA
I115530
74.
Rivinius, Tillie
begr. 20 Aug 1968
Gackle Cemetery, Gackle, Logan County, North Dakota, USA
I115949
75.
Rudolph, Annetta Christine
gest. 8 Jan 2016
Gackle Cemetery, Gackle, Logan County, North Dakota, USA
I146078
76.
Rudolph, Friedrich
gest. 20 Jun 1966
Gackle Cemetery, Gackle, Logan County, North Dakota, USA
I58036
77.
Scherbinske, Johannes A.
gest. 20 Mai 1958
Gackle Cemetery, Gackle, Logan County, North Dakota, USA
I133899
78.
Schlaht, Christina
gest. 11 Mai 1963
Gackle Cemetery, Gackle, Logan County, North Dakota, USA
I108641
79.
Schlecht, Ottilie
gest. 1 Okt 1947
Gackle Cemetery, Gackle, Logan County, North Dakota, USA
I146057
80.
Schlenker, Alexander
gest. 19 Jun 1975
Gackle Cemetery, Gackle, Logan County, North Dakota, USA
I141118
81.
Schlenker, Edward
gest. 18 Okt 1987
Gackle Cemetery, Gackle, Logan County, North Dakota, USA
I141119
82.
Schlenker, Gottfried
gest. 6 Mrz 1990
Gackle Cemetery, Gackle, Logan County, North Dakota, USA
I141117
83.
Schlenker, Johann
gest. 28 Dez 1947
Gackle Cemetery, Gackle, Logan County, North Dakota, USA
I108640
84.
Schlenker, Karen Paulette
gest. 18 Jun 2014
Gackle Cemetery, Gackle, Logan County, North Dakota, USA
I141138
85.
Schlenker, Paul
gest. 25 Mai 2000
Gackle Cemetery, Gackle, Logan County, North Dakota, USA
I141136
86.
Schlenker, Theodore
gest. 27 Sep 1992
Gackle Cemetery, Gackle, Logan County, North Dakota, USA
I133986
87.
Schlenker, Wilhelm
gest. 27 Nov 1980
Gackle Cemetery, Gackle, Logan County, North Dakota, USA
I141116
88.
Schlittenhard, Karl D.
gest. 28 Jun 1971
Gackle Cemetery, Gackle, Logan County, North Dakota, USA
I115894
89.
Schlittenhard, LaVonne
gest. 14 Aug 1941
Gackle Cemetery, Gackle, Logan County, North Dakota, USA
I115935
90.
Speidel, Theodore
gest. 31 Aug 1963
Gackle Cemetery, Gackle, Logan County, North Dakota, USA
I115671
91.
Sprecher, Hulda
gest. 9 Mai 2003
Gackle Cemetery, Gackle, Logan County, North Dakota, USA
I115847
92.
Thoreson, Agnes Marie
gest. 13 Mai 1990
Gackle Cemetery, Gackle, Logan County, North Dakota, USA
I115642
93.
Zillmer, Alfred George Arthur
gest. 23 Feb 1976
Gackle Cemetery, Gackle, Logan County, North Dakota, USA
I108509
94.
Zillmer, Dennis R.
gest. 21 Jul 2007
Gackle Cemetery, Gackle, Logan County, North Dakota, USA
I116878
95.
Zillmer, Raymond
gest. 31 Aug 1930
Gackle Cemetery, Gackle, Logan County, North Dakota, USA
I116725