Westlawn-Hillcrest Memorial Park, Omaha, Douglas County, Nebraska, USA

OpenStreetMap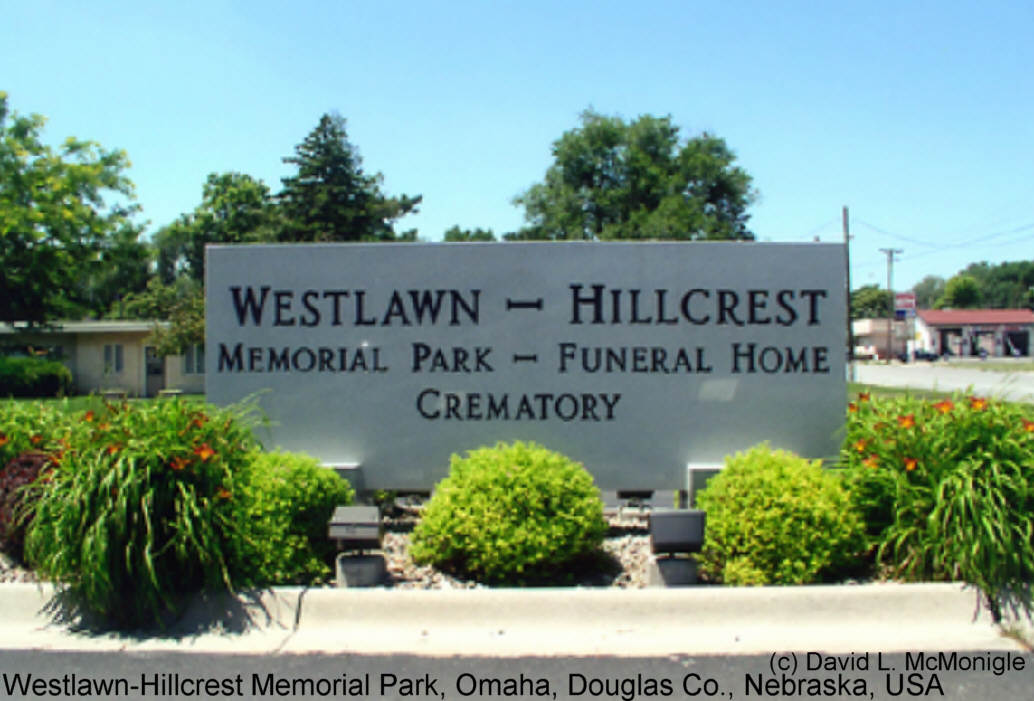 Notizen:
Also known as: Hillcrest Cemetery
5701 Center Street
Omaha
Douglas County
Nebraska USA
Postal Code: 68106
Phone: 402-556-2500
http://www.westlawnhillcrest.c...
Cemetery notes and/or description:
Hillcrest-Westlawn office phone number – 402-556-2500 and ask for Cemetery office for plot information.
Westlawn Cemetery was actually the first or older part of the cemetery and is where the upright markers are found. Hillcrest was added later and the stones for this part of the cemetery are flat stones.
There is a section called Greenlawn (there is no Greenlawn Cemetery).
Alle Beerdigungen
#

Nachname, Taufnamen

Begraben

Personen-Kennung

1.
Bettcher, Jesaias
gest. 9 Apr 1957
Westlawn-Hillcrest Memorial Park, Omaha, Douglas County, Nebraska, USA
I35139
2.
Freeland, Shirley Mae
gest. 14 Jul 1983
Westlawn-Hillcrest Memorial Park, Omaha, Douglas County, Nebraska, USA
I11886
3.
Nicolaus, Gertrude C.
gest. 2 Okt 1961
Westlawn-Hillcrest Memorial Park, Omaha, Douglas County, Nebraska, USA
I35131