Rosenfeld Baptist Cemetery, Golden Prairie, Division No.8, Saskatchewan, Canada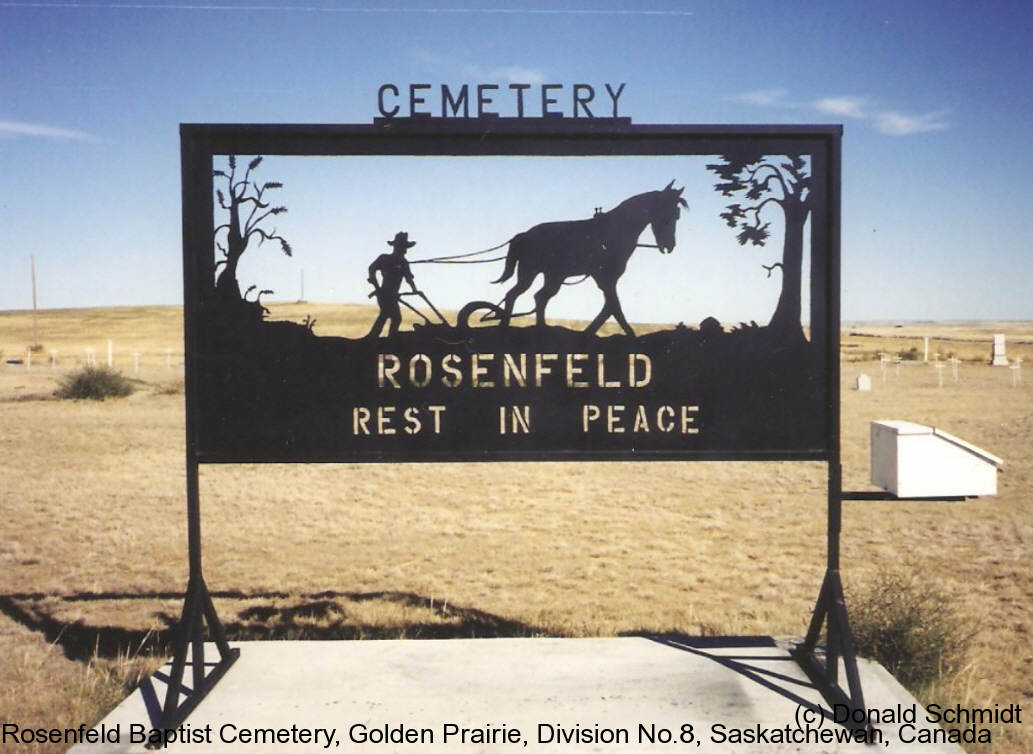 Notizen:
Rosenfeld Baptist Cemetery, as also Golden Prairie Cemetery
Golden Prairie
Swift Current Census Division
Saskatchewan Canada
Cemetery notes and/or description:
The church was, and the cemetery is located in the Rural Municipality of Big Stick, seven miles east and two miles north of Golden, Prairie, Saskatchewan.
The name Rosenfeld was chosen by a group of German immigrants who had relocated here from Drake, McHenry County, North Dakota, they had been members of the Rosenfeld Church at that location.
As at April 15, 2013, there are numerous unknown burials.
Alle Beerdigungen
#

Nachname, Taufnamen

Begraben

Personen-Kennung

1.
Bettcher, Christina
gest. 27 Feb 1947
Rosenfeld Baptist Cemetery, Golden Prairie, Division No.8, Saskatchewan, Canada
I140909
2.
Grenz, Karoline
gest. 24 Okt 1940
Rosenfeld Baptist Cemetery, Golden Prairie, Division No.8, Saskatchewan, Canada
I157188
3.
Neitz, Alma
gest. Aug 1930
Rosenfeld Baptist Cemetery, Golden Prairie, Division No.8, Saskatchewan, Canada
I140912
4.
Neitz, David
gest. 20 Jun 1950
Rosenfeld Baptist Cemetery, Golden Prairie, Division No.8, Saskatchewan, Canada
I140923
5.
Neitz, Fred
gest. 1956
Rosenfeld Baptist Cemetery, Golden Prairie, Division No.8, Saskatchewan, Canada
I140906
6.
Neitz, Hilda
gest. Jan 1938
Rosenfeld Baptist Cemetery, Golden Prairie, Division No.8, Saskatchewan, Canada
I140913
7.
Neitz, Martha
gest. 1923
Rosenfeld Baptist Cemetery, Golden Prairie, Division No.8, Saskatchewan, Canada
I140926
8.
Neitz, Philip Sr.
gest. 29 Sep 1940
Rosenfeld Baptist Cemetery, Golden Prairie, Division No.8, Saskatchewan, Canada
I140908
9.
Neitz, Tina
gest. 1912
Rosenfeld Baptist Cemetery, Golden Prairie, Division No.8, Saskatchewan, Canada
I140925
10.
Pfeifer, Philip
gest. Mrz 1944
Rosenfeld Baptist Cemetery, Golden Prairie, Division No.8, Saskatchewan, Canada
I151704
11.
Pudwill, Katharina
gest. 29 Aug 1940
Rosenfeld Baptist Cemetery, Golden Prairie, Division No.8, Saskatchewan, Canada
I136348