Friedhof Tarutino, Tarutino, Gebiet Akkermann, Region Bessarabien, Rußland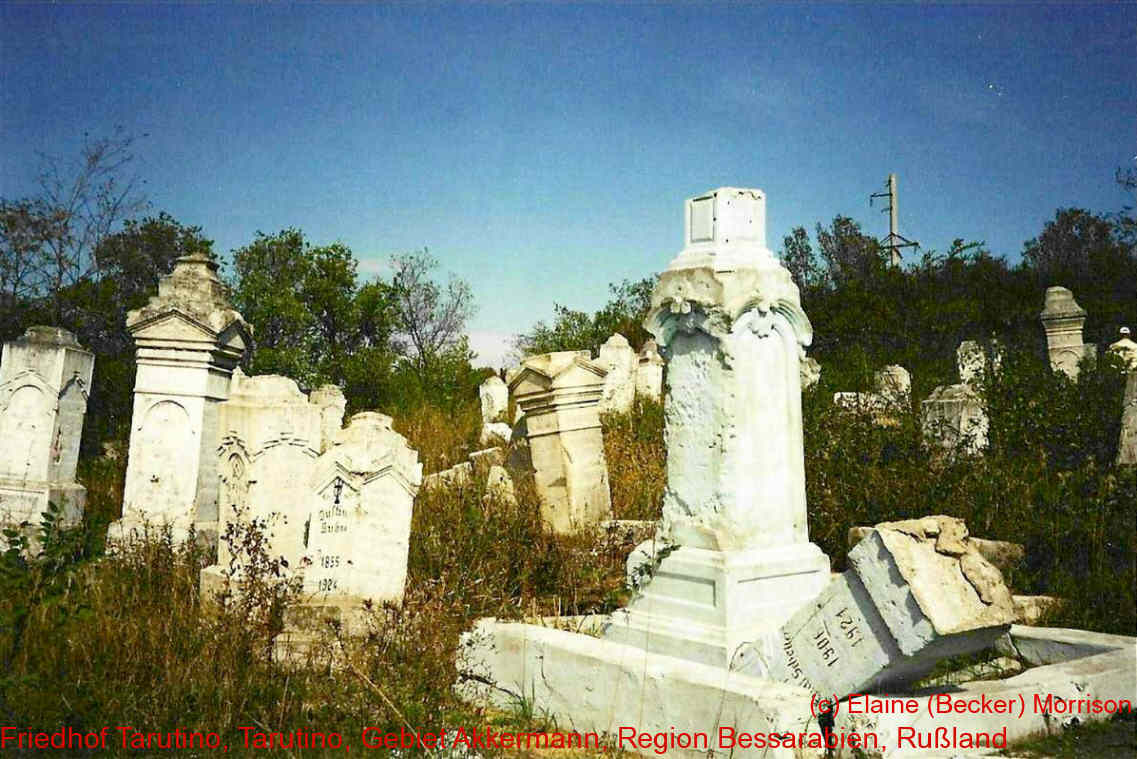 Notizen:
542 Graves (Mrz 2017)
Cemetery notes and/or description:
The TARUTINO CEMETERY's location, when established in about 1814, was adjacent to the German settlement then known as Tarutino, Akkerman, Bessarabia, South Russia.
Tombstones in this German section of the TARUTINO CEMETERY were stripped of all valuables and generally neglected by the local residents that remained there after 1940. This practice was almost universal throughout south Russia after the Germans were no longer welcome there.
Friedhofs-Fotos
Vorschaubild
Beschreibung

1

Ferdinand Krause Sr.
Friedhof Tarutino, Tarutino, Gebiet Akkermann, Region Bessarabien, Rußland

2

Wilhelm Zarbock
Friedhof Tarutino, Tarutino, Gebiet Akkermann, Region Bessarabien, Rußland
Alle Beerdigungen
#

Nachname, Taufnamen

Begraben

Personen-Kennung

1.
Banek, Andreas
begr. 13 Sep 1868
Friedhof Tarutino, Tarutino, Gebiet Akkermann, Region Bessarabien, Rußland
I252446
2.
Banek, Christian
gest. 29 Sep 1880
Friedhof Tarutino, Tarutino, Gebiet Akkermann, Region Bessarabien, Rußland
I252440
3.
Bauch, Andreas I.
begr. 11 Aug 1847
Friedhof Tarutino, Tarutino, Gebiet Akkermann, Region Bessarabien, Rußland
I230163
4.
Baumann, Friedrich
gest. 14 Okt 1867
Friedhof Tarutino, Tarutino, Gebiet Akkermann, Region Bessarabien, Rußland
I259488
5.
Boettcher, Christoph
gest. 15 Dez 1874
Friedhof Tarutino, Tarutino, Gebiet Akkermann, Region Bessarabien, Rußland
I251096
6.
Boettcher, Peter
gest. 3 Dez 1850
Friedhof Tarutino, Tarutino, Gebiet Akkermann, Region Bessarabien, Rußland
I251098
7.
Bohlmann, Eva Rosina
gest. 1 Mrz 1838
Friedhof Tarutino, Tarutino, Gebiet Akkermann, Region Bessarabien, Rußland
I241476
8.
Böttcher, Christoph
gest. 3 Dez 1850
Friedhof Tarutino, Tarutino, Gebiet Akkermann, Region Bessarabien, Rußland
I241477
9.
Böttcher, Justine
gest. 1 Jun 1862
Friedhof Tarutino, Tarutino, Gebiet Akkermann, Region Bessarabien, Rußland
I140094
10.
Böttcher, Louise Regina
gest. 16 Nov 1901
Friedhof Tarutino, Tarutino, Gebiet Akkermann, Region Bessarabien, Rußland
I161134
11.
Brisske, Karoline
begr. 25 Dez 1869
Friedhof Tarutino, Tarutino, Gebiet Akkermann, Region Bessarabien, Rußland
I244620
12.
Brunsch, Wilhelmine Friederika
gest. 15 Mai 1896
Friedhof Tarutino, Tarutino, Gebiet Akkermann, Region Bessarabien, Rußland
I108316
13.
Buchholz, Christian
gest. 28 Mai 1849
Friedhof Tarutino, Tarutino, Gebiet Akkermann, Region Bessarabien, Rußland
I264102
14.
Buchholz, Peter Ferdinand
gest. 1 Mrz 1883
Friedhof Tarutino, Tarutino, Gebiet Akkermann, Region Bessarabien, Rußland
I179655
15.
Demke, Anna Louisa
begr. 24 Aug 1851
Friedhof Tarutino, Tarutino, Gebiet Akkermann, Region Bessarabien, Rußland
I264202
16.
Erdmann, Anna Christina
gest. 6 Mrz 1869
Friedhof Tarutino, Tarutino, Gebiet Akkermann, Region Bessarabien, Rußland
I20006
17.
Erdmann, Christoph
begr. 21 Mrz 1840
Friedhof Tarutino, Tarutino, Gebiet Akkermann, Region Bessarabien, Rußland
I251147
18.
Erdmann, Johann
begr. 24 Feb 1871
Friedhof Tarutino, Tarutino, Gebiet Akkermann, Region Bessarabien, Rußland
I252422
19.
Gerling, Wilhelm Ludwig
gest. 12 Dez 1881
Friedhof Tarutino, Tarutino, Gebiet Akkermann, Region Bessarabien, Rußland
I264968
20.
Heim, Christoph II.
begr. 30 Apr 1854
Friedhof Tarutino, Tarutino, Gebiet Akkermann, Region Bessarabien, Rußland
I257784
21.
Hirschkorn, Anna Karoline Julianna
gest. 2 Mai 1855
Friedhof Tarutino, Tarutino, Gebiet Akkermann, Region Bessarabien, Rußland
I265377
22.
Kaldun, Hana Wilhelmina
gest. 6 Dez 1915
Friedhof Tarutino, Tarutino, Gebiet Akkermann, Region Bessarabien, Rußland
I252441
23.
Kannewischer, Michael
begr. 1 Mrz 1835
Friedhof Tarutino, Tarutino, Gebiet Akkermann, Region Bessarabien, Rußland
I252895
24.
Kleist, Anna Christina
gest. 17 Sep 1856
Friedhof Tarutino, Tarutino, Gebiet Akkermann, Region Bessarabien, Rußland
I254570
25.
Knopp, Christian
gest. 9 Dez 1913
Friedhof Tarutino, Tarutino, Gebiet Akkermann, Region Bessarabien, Rußland
I264940
26.
König, Justine
gest. 1897
Friedhof Tarutino, Tarutino, Gebiet Akkermann, Region Bessarabien, Rußland
I264941
27.
Krause, Ferdinand Sr.
gest. 1 Sep 1927
Friedhof Tarutino, Tarutino, Gebiet Akkermann, Region Bessarabien, Rußland
I127086
28.
Krause, Michael
gest. 5 Dez 1831
Friedhof Tarutino, Tarutino, Gebiet Akkermann, Region Bessarabien, Rußland
I121279
29.
Kuohn, Johannes
begr. 7 Aug 1866
Friedhof Tarutino, Tarutino, Gebiet Akkermann, Region Bessarabien, Rußland
I254569
30.
Müller, Katharina
gest. vor 1831
Friedhof Tarutino, Tarutino, Gebiet Akkermann, Region Bessarabien, Rußland
I127101
31.
Mutschall, Michael
gest. 12 Dez 1844
Friedhof Tarutino, Tarutino, Gebiet Akkermann, Region Bessarabien, Rußland
I127428
32.
Neumann, Michael
begr. 14 Feb 1838
Friedhof Tarutino, Tarutino, Gebiet Akkermann, Region Bessarabien, Rußland
I259483
33.
Nikolaus, Johannes
gest. 30 Dez 1882
Friedhof Tarutino, Tarutino, Gebiet Akkermann, Region Bessarabien, Rußland
I233104
34.
Pluebroudten, Anna Maria
gest. 23 Jan 1823
Friedhof Tarutino, Tarutino, Gebiet Akkermann, Region Bessarabien, Rußland
I127450
35.
Pod, Anna Rosina
begr. 9 Mrz 1856
Friedhof Tarutino, Tarutino, Gebiet Akkermann, Region Bessarabien, Rußland
I259484
36.
Priebe, Johann Joseph
gest. 22 Jun 1831
Friedhof Tarutino, Tarutino, Gebiet Akkermann, Region Bessarabien, Rußland
I241475
37.
Rippke, Anna Elisabeth
gest. 7 Aug 1869
Friedhof Tarutino, Tarutino, Gebiet Akkermann, Region Bessarabien, Rußland
I252447
38.
Ritz, Friedrich
gest. 13 Mrz 1841
Friedhof Tarutino, Tarutino, Gebiet Akkermann, Region Bessarabien, Rußland
I250725
39.
Rosenau, Samuel Christian
begr. 1 Dez 1842
Friedhof Tarutino, Tarutino, Gebiet Akkermann, Region Bessarabien, Rußland
I259485
40.
Schielke, Karolina Wilhelmina
gest. 2 Mai 1864
Friedhof Tarutino, Tarutino, Gebiet Akkermann, Region Bessarabien, Rußland
I251097
41.
Schiewe, Anna Katharina
gest. 5 Feb 1837
Friedhof Tarutino, Tarutino, Gebiet Akkermann, Region Bessarabien, Rußland
I252896
42.
Stauch, Anna Christine
gest. 10 Jun 1864
Friedhof Tarutino, Tarutino, Gebiet Akkermann, Region Bessarabien, Rußland
I251099
43.
Sucko, Anna Justina
gest. 1873
Friedhof Tarutino, Tarutino, Gebiet Akkermann, Region Bessarabien, Rußland
I260997
44.
Tietz, Eva Rosina
gest. 10 Sep 1829
Friedhof Tarutino, Tarutino, Gebiet Akkermann, Region Bessarabien, Rußland
I127429
45.
Wanke, Louise Amalia
gest. 8 Okt 1872
Friedhof Tarutino, Tarutino, Gebiet Akkermann, Region Bessarabien, Rußland
I254589
46.
Warnke, Christoph
gest. 9 Sep 1821
Friedhof Tarutino, Tarutino, Gebiet Akkermann, Region Bessarabien, Rußland
I254585
47.
Warnke, Johann
gest. 27 Aug 1853
Friedhof Tarutino, Tarutino, Gebiet Akkermann, Region Bessarabien, Rußland
I254590
48.
Zarbock, Anna Rosina
begr. 6 Apr 1851
Friedhof Tarutino, Tarutino, Gebiet Akkermann, Region Bessarabien, Rußland
I254591
49.
Zarbock, Ewald
gest. 1814
Friedhof Tarutino, Tarutino, Gebiet Akkermann, Region Bessarabien, Rußland
I127449
50.
Zarbock, Johann Daniel
gest. 25 Mai 1911
Friedhof Tarutino, Tarutino, Gebiet Akkermann, Region Bessarabien, Rußland
I161133
51.
Zarbock, Wilhelm
gest. 12 Jan 1903
Friedhof Tarutino, Tarutino, Gebiet Akkermann, Region Bessarabien, Rußland
I161932