Chilliwack Cemetery, Chilliwack, Fraser Valley Regional District, British Columbia, Canada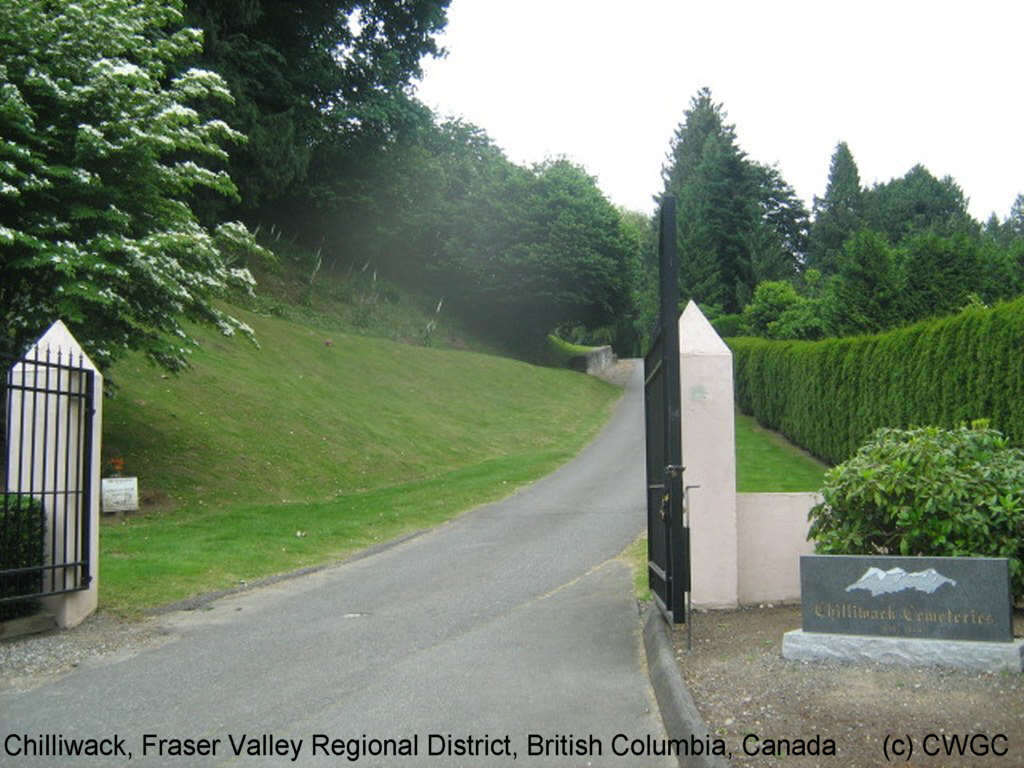 Notizen:
10010 Hillcrest Drive,
Chilliwack
Fraser Valley Regional District
British Columbia Canada
Postal Code: V2P 1X7
Phone: 604-795-3051
Cemetery notes and/or description:
This cemetery is on the south slope of Mt. Shannon (often referred to as Little Mountain), 4 km east of Chilliwack off Yale Road East. Formerly known as the IOOF and Anglican Cemeteries.
Chilliwack is 103 kilometres east of Vancouver and the cemetery is about 3 kilometres further east, on a shoulder of Little Mountain. It contains 1 grave of the 1914-1918 War in which is buried a soldier of the Canadian Army.
Geographische Breite: 49.184177525203594, Geographische Länge: -121.90571308135986
Alle Beerdigungen
#

Nachname, Taufnamen

Begraben

Personen-Kennung

1.
Fritzke, Alvina Wilma
gest. 24 Jun 1963
Chilliwack Cemetery, Chilliwack, Fraser Valley Regional District, British Columbia, Canada
I252282
2.
Giesler, Oscar
gest. 28 Aug 2006
Chilliwack Cemetery, Chilliwack, Fraser Valley Regional District, British Columbia, Canada
I127112
3.
Haas, Emilia
gest. 11 Jan 1967
Chilliwack Cemetery, Chilliwack, Fraser Valley Regional District, British Columbia, Canada
I127097
4.
Krause, Eduard
gest. 24 Okt 1954
Chilliwack Cemetery, Chilliwack, Fraser Valley Regional District, British Columbia, Canada
I127096
5.
Krause, Wilma Pauline
gest. 9 Jan 2008
Chilliwack Cemetery, Chilliwack, Fraser Valley Regional District, British Columbia, Canada
I127111
6.
Werk, Frederick
gest. 25 Mrz 1970
Chilliwack Cemetery, Chilliwack, Fraser Valley Regional District, British Columbia, Canada
I252283
7.
Werk, Lydia
gest. 12 Nov 1977
Chilliwack Cemetery, Chilliwack, Fraser Valley Regional District, British Columbia, Canada
I252284