Highland Cemetery, Great Falls, Cascade County, Montana, USA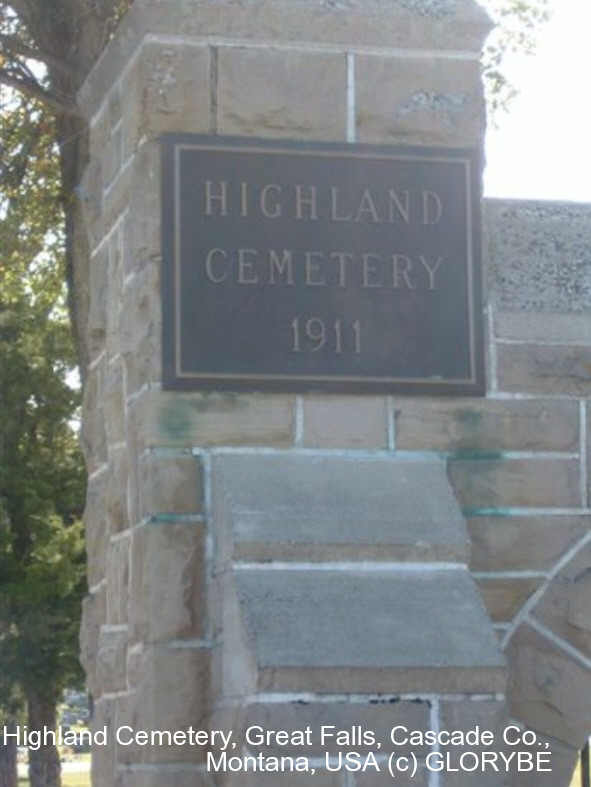 Notizen:
Also known as: New Highland Cemetery
Cemetery notes and/or description:
NOTE: There is an Old Highland Cemetery in town and there is this Highland Cemetery in town. They are adjacent to each other, but this one is a currently used cemetery that is kept up, etc. (The Old Highland Cemetery is an old and pretty much abandoned cemetery.)
Old Highland was the first cemetery. In 1911 a newer cemetery was started and is know as Highland Cemetery. Old Highland was basically abandoned. The weeds are mowed once a year. There is no water or irrigation. New Highland is a perpetual care cemetery that has grass, is irrigated and taken care of. But, you have to drive through the newer Highland Cemetery to get to Old Highland Cemetery. There is just a internal road separating the two cemeteries. A photo of a map has been posted on the Highland site. If you look at that map in the upper left hand corner you will see where it says "Old Highland".
Geographische Breite: 47.4642438, Geographische Länge: -111.26491909999999
Friedhofs-Fotos
Vorschaubild
Beschreibung

1

Bitz, Leona June
Highland Cemetery, Great Falls, Cascade County, Montana, USA

2

Chris W. Trebesch
Highland Cemetery, Great Falls, Cascade County, Montana, USA, Plot: Section 12

3

Christina Gemar
Highland Cemetery, Great Falls, Cascade County, Montana, USA, Plot: Section 15

4

George David Gemar
Highland Cemetery, Great Falls, Cascade County, Montana, USA, Plot: Monument Section 13

5

Gilmore Paul Gemar
Highland Cemetery, Great Falls, Cascade County, Montana, USA, Plot: Section 12

6

Helen Manette Gemar
Highland Cemetery, Great Falls, Cascade County, Montana, USA, Plot: Section 12

7

Lida Zimbelman
Highland Cemetery, Great Falls, Cascade County, Montana, USA

8

Lloyd Peter Gemar
Highland Cemetery, Great Falls, Cascade County, Montana, USA, Plot: Section 12

9

Lucile M. Fitzgerald
Highland Cemetery, Great Falls, Cascade County, Montana, USA, Plot: Section 12

10

Myron Roy Aznoe
Highland Cemetery, Great Falls, Cascade County, Montana, USA, Plot: Section 15

11

Peter Gemar
Highland Cemetery, Great Falls, Cascade County, Montana, USA, Plot: Section 12
Alle Beerdigungen
#

Nachname, Taufnamen

Begraben

Personen-Kennung

1.
Aznoe, Myron Roy
gest. 2 Sep 1943
Highland Cemetery, Great Falls, Cascade County, Montana, USA
I21865
2.
Bitz, Leona June
gest. 15 Apr 1965
Highland Cemetery, Great Falls, Cascade County, Montana, USA
I2037
3.
Fitzgerald, Lucile M.
gest. 15 Mai 1963
Highland Cemetery, Great Falls, Cascade County, Montana, USA
I51592
4.
Gemar, Christina
gest. 7 Okt 1966
Highland Cemetery, Great Falls, Cascade County, Montana, USA
I21861
5.
Gemar, George David
gest. 10 Dez 2003
Highland Cemetery, Great Falls, Cascade County, Montana, USA
I9252
6.
Gemar, Gilmore Paul
gest. 1993
Highland Cemetery, Great Falls, Cascade County, Montana, USA
I9250
7.
Gemar, Helen Manette
gest. 2 Apr 2000
Highland Cemetery, Great Falls, Cascade County, Montana, USA
I9247
8.
Gemar, Lloyd Peter
gest. 2001
Highland Cemetery, Great Falls, Cascade County, Montana, USA
I9254
9.
Gemar, Peter
gest. 29 Aug 1952
Highland Cemetery, Great Falls, Cascade County, Montana, USA
I2041
10.
Trebesch, Chris W.
gest. 1981
Highland Cemetery, Great Falls, Cascade County, Montana, USA
I55514
11.
Zimbelman, Lida
gest. 1 Jan 1988
Highland Cemetery, Great Falls, Cascade County, Montana, USA
I1692