Holy Cross Cemetery, Fargo, Cass County, North Dakota, USA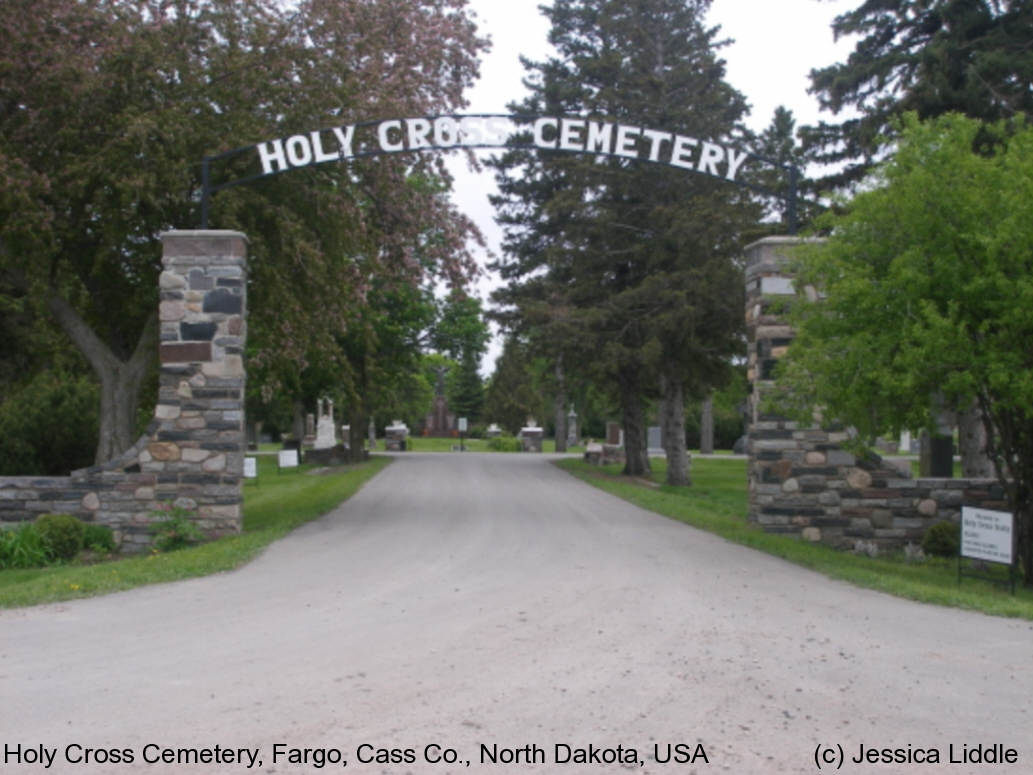 Notizen:
Also known as: Holy Cross Cemetery North, Saint Mary's Cathedral Cemetery
1502 32nd Ave N.
Fargo
Cass County
North Dakota USA
Cemetery notes and/or description:
Holy Cross Cemetery began in the 1880's as St Mary's Cathedral cemetery. In the late 1940's the name was changed to Holy Cross Cemetery. This name change served the needs of the parishes in Fargo, West Fargo, and Argusville. It was during this time that statue in the center of the Risen Lord, the entrance gateway, and other stonework was put up. The Bishops of the Fargo Diocese are all buried around the statue. There are special areas set aside for The Presentation Sisters and the Sisters of St. Joseph, as well as areas for Veterans and infants. The cemetery phone number is 701-237-6671. This number can be called if you need information about the location of burial plots.
Geographische Breite: 46.91912972780714, Geographische Länge: -96.80890560150146
Friedhofs-Fotos
Vorschaubild
Beschreibung

1

John C. Fandrich
Holy Cross Cemetery, Fargo, Cass County, North Dakota, USA
Alle Beerdigungen
#

Nachname, Taufnamen

Begraben

Personen-Kennung

1.
Fandrich, John C.
gest. 27 Nov 2012
Holy Cross Cemetery, Fargo, Cass County, North Dakota, USA
I151822