Skylawn Memorial Park, San Mateo, San Mateo County, California, USA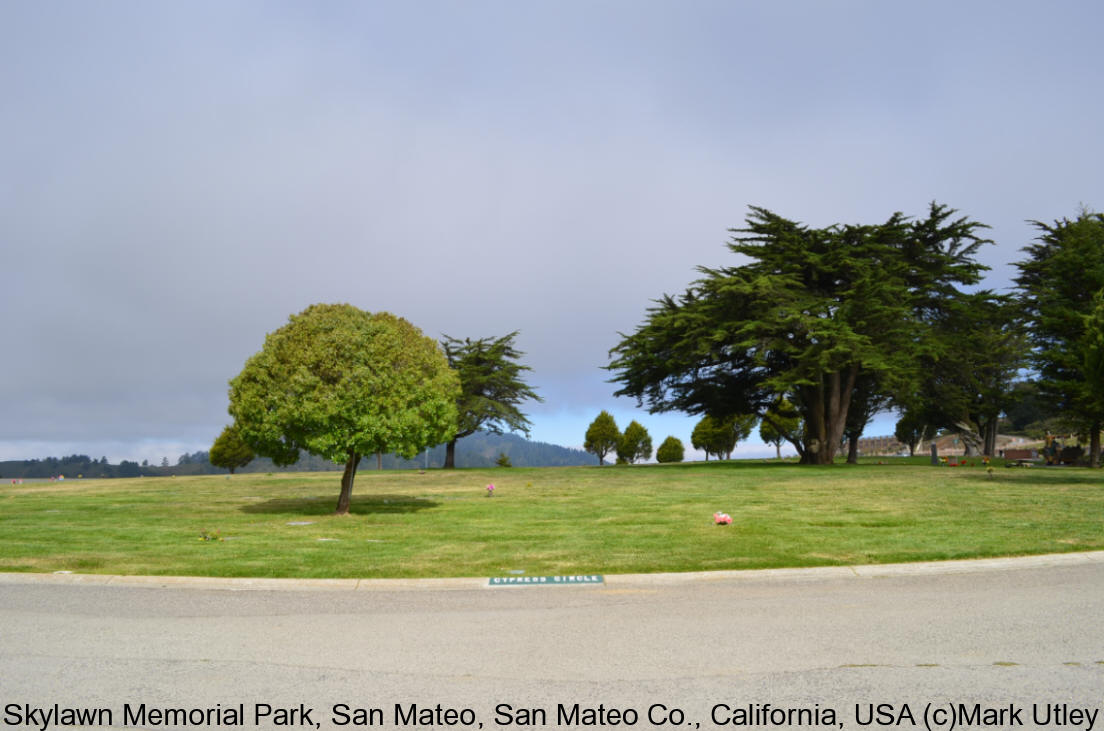 Notizen:
Hwy 92 West At 35
San Mateo
San Mateo County
California USA
Postal Code: 94402
Phone: 650-349-4411
Cemetery notes and/or description:
There are approximately thirty-four Gardens on-site, with more to come.
The most often mentioned and confused as cemeteries are:
Bai Ling Yuan Chinese Garden
Jardines Del Recuerdo (Hispanic) Garden
Niño Santo (Filipino) Garden
Northern California Korean Garden
Skylawn Memorial Park located in San Mateo is part of Lifemark Group. They have an OFFICE in Sunnyvale, but there is NO cemetery located there.
Friedhofs-Fotos
Vorschaubild
Beschreibung

1

Ava Ruth Schmidt
Skylawn Memorial Park, San Mateo, San Mateo County, California, USA, Plot: Cypress Circle

2

Jonathan Hilton Hochstatter
Skylawn Memorial Park, San Mateo, San Mateo County, California, USA, Plot: Cypress Circle
Alle Beerdigungen
#

Nachname, Taufnamen

Begraben

Personen-Kennung

1.
Harris, Lewis Copelin
gest. 5 Okt 1999
Skylawn Memorial Park, San Mateo, San Mateo County, California, USA
I1435
2.
Hochstatter, Jonathan Hilton
gest. 29 Dez 1991
Skylawn Memorial Park, San Mateo, San Mateo County, California, USA
I152321
3.
Kilzer, Pauline Minnie
gest. 28 Apr 1999
Skylawn Memorial Park, San Mateo, San Mateo County, California, USA
I183161
4.
Kissinger, George Marvin
gest. 1 Jan 1981
Skylawn Memorial Park, San Mateo, San Mateo County, California, USA
I181849
5.
Schmidt, Ava Ruth
gest. 2 Okt 2002
Skylawn Memorial Park, San Mateo, San Mateo County, California, USA
I152322
6.
Zimbelman, Ella Frieda
gest. 27 Nov 2011
Skylawn Memorial Park, San Mateo, San Mateo County, California, USA
I1422