Alliance Cemetery, Alliance, Box Butte County, Nebraska, USA

OpenStreetMap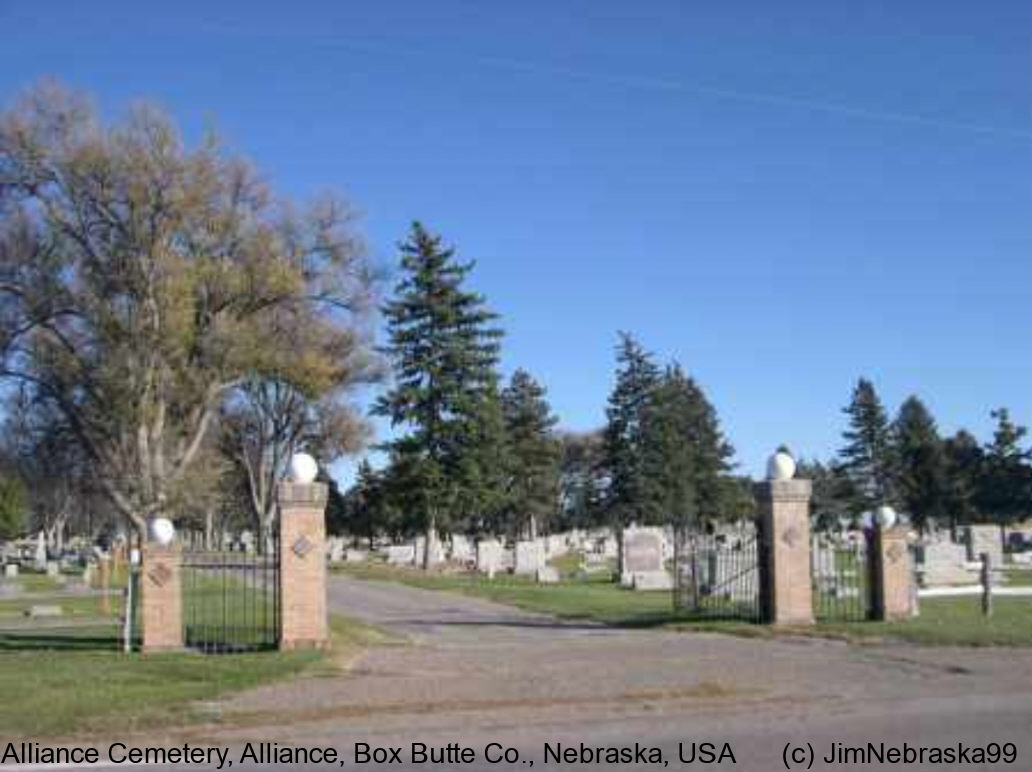 Notizen:
Picture from: www.nebraskagravestones.org/view.php?id=81901
Also known as: Greenwood Cemetery
Cemetery notes and/or description:
This cemetery is located one mile east and 1/2 mile north of Alliance, Nebraska in Box Butte County.
The plot of ground was first bought by the Alliance Cemetery Association on April 11, 1890. On August 10, 1915, the city of Alliance bought the land from the Association.
The cemetery is still being used and is in very good condition.
Friedhofs-Fotos
Vorschaubild
Beschreibung

1

Albert Gideon Nuss
Alliance Cemetery, Alliance, Box Butte County, Nebraska, USA

2

Bonnie May Bonar
Alliance Cemetery, Alliance, Box Butte County, Nebraska, USA
Alle Beerdigungen
#

Nachname, Taufnamen

Begraben

Personen-Kennung

1.
Bonar, Bonnie May
gest. 25 Jun 1998
Alliance Cemetery, Alliance, Box Butte County, Nebraska, USA
I5544
2.
Emerick, Alice Dorothy
gest. 31 Jan 2004
Alliance Cemetery, Alliance, Box Butte County, Nebraska, USA
I153921
3.
Nuss, Albert Gideon
begr. 21 Aug 1981
Alliance Cemetery, Alliance, Box Butte County, Nebraska, USA
I5543
4.
Petersen, Hans T.
gest. 14 Nov 1983
Alliance Cemetery, Alliance, Box Butte County, Nebraska, USA
I153922