New Palestine Cemetery, Picayune, Pearl River County, Mississippi, USA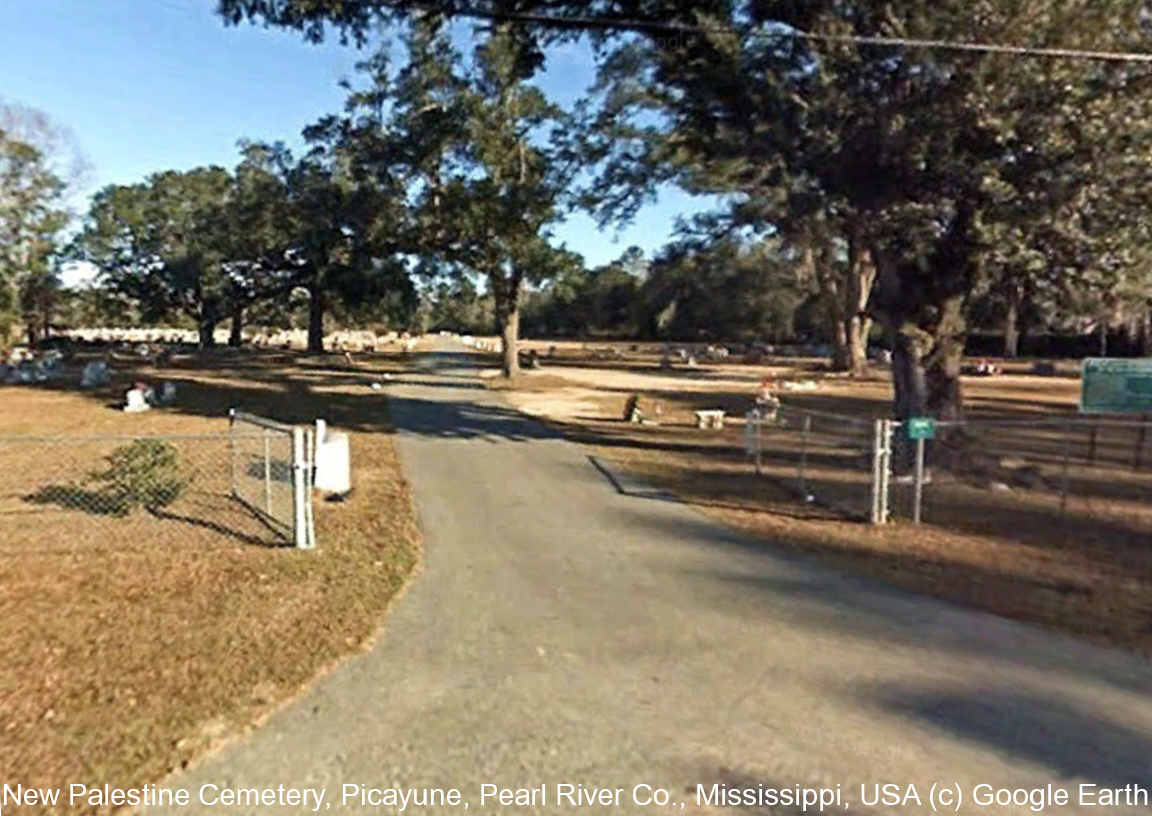 Notizen:
5.343 Graves (2016)
Also known as: Palestine Cemetery
2500 Palestine Road
Picayune
Pearl River County
Mississippi USA
Cemetery notes and/or description:
Three miles west of Picayune, Pearl River County. The cemetery is next to New Palestine Baptist Church. The cemetery is divided into three sections, with approximately 45 grave spaces on each row; referred to as Sections 1, 2 and 3. All rows are read from left to right.
Geographische Breite: 30.53382482329128, Geographische Länge: -89.7272515296936
Friedhofs-Fotos
Vorschaubild
Beschreibung

1

Frank Arthur Zimbelman
New Palestine Cemetery, Picayune, Pearl River County, Mississippi, USA

2

Isabel Matilda Sigsworth
New Palestine Cemetery, Picayune, Pearl River County, Mississippi, USA

3

Karen Charlene Jensen
New Palestine Cemetery, Picayune, Pearl River County, Mississippi, USA
Alle Beerdigungen
#

Nachname, Taufnamen

Begraben

Personen-Kennung

1.
Jensen, Karen Charlene
gest. 9 Apr 1997
New Palestine Cemetery, Picayune, Pearl River County, Mississippi, USA
I159030
2.
Sigsworth, Isabel Matilda
gest. 8 Nov 2008
New Palestine Cemetery, Picayune, Pearl River County, Mississippi, USA
I43685
3.
Zimbelman, Frank Arthur II.
gest. 2 Dez 2004
New Palestine Cemetery, Picayune, Pearl River County, Mississippi, USA
I50680